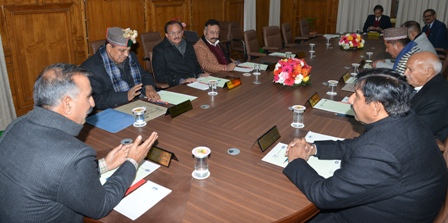 Himachal Pradesh State Cabinet has decided to implement Old Pension Scheme (OPS) for all state government employees' presently defined contributory pension scheme covered under New Pension System (NPS).
In its first Cabinet Meeting of the Congress government in the state presided over by Chief Minister Sukhvinder Singh Sukhu it has also decided to adopt the Congress manifesto of the Congress party released during the last Assembly election as the policy document of the state government and all ministers, secretaries and head of the departments to implement the same in letter and spirit.
The Cabinet has also decided to constitute a cabinet subcommittee for finalizing the roadmap fulfilling the promises made to people like creation of one lakh jobs and for giving Rs 1500 per month to every woman from 18 to 60 years.
The Cabinet has also thanked people of the state for reposing its faith in the Congress party. It has also thanked Congress leaderships for its role and support during election for bringing the Congress back to power in Himachal.
Earlier , addressing NPS employees' at Shimla on Friday the CM Sukhvinder Singh Sukhu said , " The state government will provide benefits of the Old Pension Scheme to the employees covered under NPS as the purpose of pension is not merely to provide monetary benefits to them but it instills a sense of social security and self respect among them."