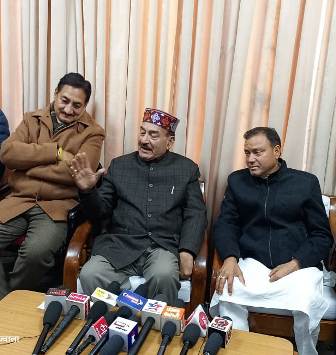 Senior Congress leader Kaul Singh Thakur said the Congress government of the state is committed to carry out uniform development in all ten constituencies of Mandi district.
Talking to media persons on Friday at Mandi he said , " The development during the previous government was only carried in two Assembly segments of Mandi district i.e. Seraj and Dharampur constituencies but the Congress government led by Chief Minister Sukhvinder Singh Sukhu would undertake uniform development in every constituency of Mandi district ."
Thakur said, " Former Congress president Rahul Gandhi through Bharat Jodo Yatra has launched a campaign against corruption, inflation, unemployment and to unite the country against communal divide created by ruling BJP and Himachal Congress Committee has also launched hath se hath jodo campaign on the similar lines in the state ."
He said, " Through hath se hath jodo campaign the Congress workers would visit every house for the next two months in every panchayat to meet people and to distribute copies of charge sheets prepared against the Modi led Central government by the Congress party."
"In Mandi, Education Minister Rohit Thakur would launch the campaign on January 26", Thakur added.
Former Minister Prakash Chaudhary and former CPS Sohan Lal Thakur among others were present on the occasion.