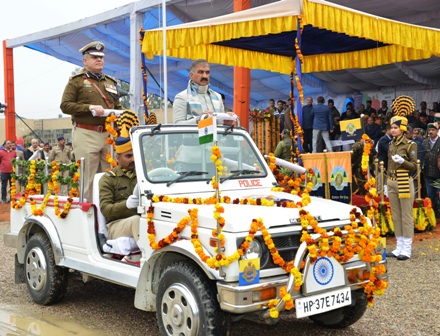 The 53rd statehood Day of Himachal Pradesh was celebrated with great fervor in the state; Chief Minister Sukhvinder Singh Sukhu unfurled the National Flag in a state level function at Hamirpur and took salute from marching contingents of Police, Home Guards, IRB Sakoh , NCC cadets , Scouts and Guides led by DSP Ankit Sharma.
Addressing on the occasion the Chief Minister said, "The people of the state have worked hard for the development and progress of the state, besides contributions of first Chief Minister Dr YS Pramar and others."
Congratulating people on the occasion, the CM said, " It was on December 11 , 2022 the new government took over reigns of the state government and from the day one our government has been trying to revamp the system and we have pledged zero tolerance towards corruption and stringent measures to eliminate various social evils."
"The suspension of Himachal Pradesh Service Staff Selection Commission, where some employees were found to be selling question papers for selection of jobs, was first step in this direction to check corruption, we have decided to ensure selection of candidates for various jobs on merit and in a fair and transparent manner", he added.
He said, "The economic health of the state was in utter disarray because of the extravagant spending by the previous government with the debt of Rs 75000 crores, besides liabilities such as paying arrears to employee of nearly Rs 4430 crores, Rs 5226 crores for paying pension and Rs 1000 crore for paying DA to employees; the previous government opened about 900 institutions without budgetary provision for which the state government had to take additional loan of Rs 5000 crore."
The CM said, "Despite all these challenges the state government has fulfilled its promise to restore old pension system for nearly 1.36 state government employees while approximately Rs 8000 crores contributed under NPS is still pending with the Central government since it was not a political decision to restore OPS but to protect self esteem of the employees; taking certain strong measures to generate additional resources are inevitable", he added.
He said, "The state government has set up Chief Minister's Sukh-Ashray Sahayata Kosh with an outlay of Rs. 101 crore for providing higher education, for providing vocational training in engineering colleges, IIT, IIM, NIT etc and the state government would act as guardian of inmates living in shelter homes, old age home and destitute women; Rs 10000 would be given to the inmates as an apparel allowance every year, besides Rs 500 as festival allowance."
The CM said, "To generate employment opportunities in different fields the state government has decided to introduce technical courses like robotics, block chain technology, cyber security etc, besides boosting tourism to increase employability of unemployed youths."
The Chief Minister said, "The state government has set a target to harness hydropower, hydrogen, and solar energy in order to preserve the state's environment and to make Himachal Pradesh the country's first green energy state by the year 2025."
He also honored the wards of freedom fighters, Army Personnel, special children and also gave away prizes to winners of different competitions. .
Deputy Chief Minister Mukesh Agnihotri, Cabinet Ministers, CPS', MLAs, Chief Secretary Prabodh Saxena, DGP Sanjay Kundu among other dignitaries were present on the occasion.