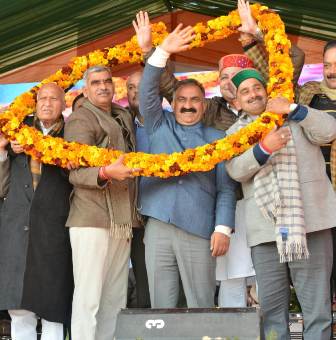 Chief Minister Sukhvinder Singh Sukhu has promised to provide a transparent and responsive administration accountable to people of the state.
Addressing Jan Aabhaar Rally at Zorawar Stadium Dharamshala on Tuesday organized to express gratitude to people of Himachal for giving clear mandate to Congress in the Assembly election, the CM said, "We are not in the government for power but we are committed to bring change in every sphere of life, especially in the lives of weaker sections like destitute, orphan children and women as lot of work is required to help them."
The CM said, "Our government has decided to set up CM Sukhashray Sahayata Kosh with an initial grant of Rs 101 crore to provide higher education to such people in order to meet expenses of their higher education, skill development and providing vocational training, besides giving them financial assistance for living a dignified life."
Launching a scathing attack on the previous BJP Government for opening over 900 institutions in different parts of the state without any budgetary provisions, Mr. Singh said, "This was simply done to lure the people with an eye on the Assembly election and announcements in haphazard manner were made".
The CM said, "The state government has exposed a big paper leak scam in HPSSSC Hamirpur which had become a den of paper leakage as question papers were being sold by the senior staff; taking a bold decision our government immediately suspended the functioning of the HPSSSC and our government would make every effort to ensure free and fair examinations for recruitment of candidates for different posts. "
He said, "The state government would implement the ten guarantees as promised in the Congress manifesto during assembly elections in a phased manner and Old Pension System would be implemented in the first Cabinet meeting, besides giving Rs 1500 per month to women in the age group of 18 to 60 years."
Addressing the gathering Deputy Chief Minister Mukesh Agnihotri said, "Some BJP leaders are making baseless statement out of frustration as it has become difficult for them to digest defeat and rejection of their government in the Assembly election but they should accept this truth the slogan of Double Engine government has been discarded by people."
He said, "The jobs were on sale during the tenure of the BJP regime whereas our government after coming to power had immediately suspended the working of HPSSSC, he advised BJP leaders to play a role of a responsible opposition."
HPCC president and Mandi MP Smt.Pratibha Singh thanked the people of the state for their wholehearted support in the assembly elections, speaking on the occasion."
MLAs Sudhir Sharma, RS Bali, Kewal Singh Pathania, besides others facilitated the CM, Deputy CM and other Congress leaders on the occasion.
The state Congress Co-in charge Sanjay Dutt, secretary AICC Tajinder Singh Bittu, Pro-tem Speaker Chander Kumar, several Congress MLAs, Political Advisor to the CM Sunil Sharma, Principal Advisor (Media) Naresh Chauhan, among others were present on the occasion.