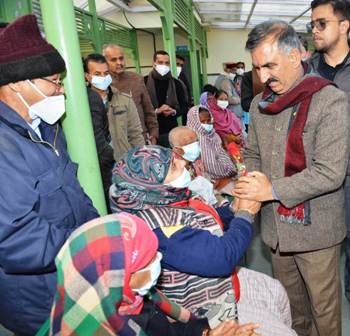 Chief Minister Sukhvinder Singh Sukhu has announced to give an apparel allowance of Rs 10000 per person every year to inmates of old age homes, orphanages' , destitute women , deaf and dumb children .
Making this announcement during his visit to an old age home at Basantpur on Saturday the CM said, " Rs 5000 would be provided for the summer and winter clothes every year to ensure proper clothing to such people."
The CM also interacted with the inmates of the old age home and enquired about the facilities being provided to them.
The CM has directed the authorities to celebrate major festivals with such people to give them a sense of belongingness as the state government has already announced to give them a festival allowance of Rs 500 each.
Earlier, the CM was accorded a warm welcome on his way at Dhami, Tikker Ghati, Mandri and Bagipul, besides being welcomed by Vyapar Mandal Sunni.
Principal Advisor (Media) to the Chief Minister Naresh Chauhan and OSD to the Chief Minister Gopal Sharma were present on the occasion among others.
Later, the CM also participated in the makar sankranti fair at Tattapani and also addressed a public meeting.