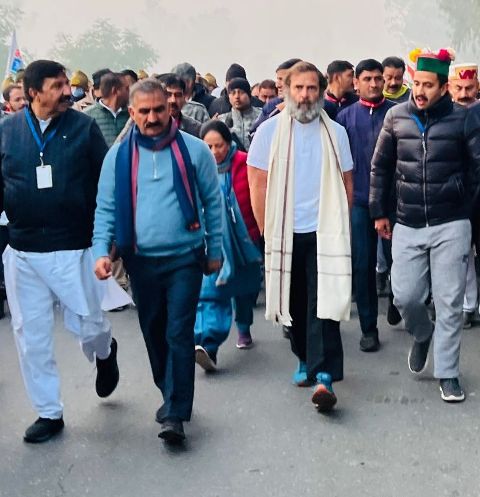 The Bharat Jodo Yatra undertaken by former Congress president Rahul Gandhi entered Himachal Pradesh at Manser in Kangra district on Wednesday, before heading towards its last leg in Kashmir.
Rahul Gandhi was given a rousing reception by Chief Minister Sukhvinder Singh Sukhu, Deputy CM Mukesh Agnihotri, HP Congress Committee president Pratibha Singh, several Cabinet Ministers, MLAs and other Congress leaders in the morning at about 7 am at Ghatota village. Punjab PCC chief Raja Warring handed over the tricolour to the HP CM and HPCC chief Pratibha Singh.
Addressing a gathering on the occasion Rahul Gandhi said , " The motive of Bharat Jodo Yatra is to unite the country against communal, divisive forces and defeat nefarious designs of BJP and RSS ; my aim is to unite the people and the nation against anti- people policies of the BJP", he added.
He said , " BJP has completely failed to address issues of unemployment and inflation and giving benefits to its favourites while common people are getting a raw deal; demonetization, wrong implementation of GST have benefited business friends of the party," he added.
Mr Gandhi said, "I have received immense response from people during the Yatra and I have also learnt a lot about my country; the state was not included in the Yatra schedule but on the request of the HP leaders it was included."
Welcoming Rahul Gandhi, the CM Sukhvinder Singh Sukhu said, "The massive victory of the Congress was in fact the victory of truth over corruption and the credit goes to the dedication and hard work of Rahul and Priyanka Gandhi."
The CM said, "The state would emulate the path of unity, integrity and co-existence shown by the Congress party and we have also launched the Hath se Hath campaign to follow the path here."
Speaking on the occasion HPCC president Pratibha Singh assured Mr Gandhi, the state government and the Congress party would implement ten guarantees given to people during the Assembly election in the state.
Rahul Gandhi accompanied by Congress leaders paid obeisance at Kathgarh Shiva temple.