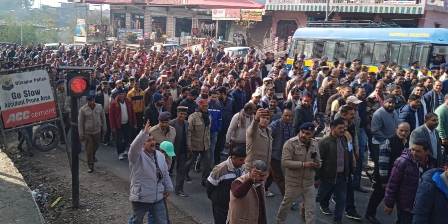 As thousands of truckers from both truck operators unions of Barmana and Darlaghat held a protest march for nearly eleven kilometers from Nauni to Bilaspur on Thursday against abrupt closure of cement plants by management of Adani Cements, now all eyes are set on the meeting convened by Industries Minister Harshvardhan Chauhan with both the groups on Friday.
The meeting would be held at HP Secretariat in which truck operator unions, management of Adani Cement and members of the committee constituted by the state government to resolve the issue have been invited.
The truck operators unions of Barmana and Darlaghat are protesting against the management of Adani Cements for past 35 days after it had shut down its two newly acquired cement plants at Barmana and Darlaghat.
The Adani Group had purchased cement plant at Barmana from Associate Cement Companies (ACC) and at Darlaghat from Ambuja Cements a few months back but had closed production in both the plants to allegedly pressurize the track operators to reduce cement fare.
On the other hand the truck operators unions are demanding revision in cement ferrying rates with increase of cost of diesel and maintenance charges etc.
Recently elected Congress government in the state is under pressure to get the issue resolved at the earliest as closure of the cement manufacturing has created shortage of cement in the state, besides hampering development activity and construction works. Moreover, with nearly ten thousand truckers and thousands of other linked with the trade are out of work for more than a month.
The management of the Group has been saying, "The cement production has become a loss making business and unless truck operators reduce the freight it would difficult to resume production".
Earlier meetings convened by the state government have not yielded result.
Ram Krishan Sharma, one of the committee members of the truck operators unions said, "We held an eleven kms long protest march on Thursday and submitted memorandum to the state government through district administration."
"Industries Minister Harashvardhan Chauhan has convened a meeting on Friday at Shimla to resolve the issue; we have sent our staff on leave for a week and are determined to fight for our rights", he added.