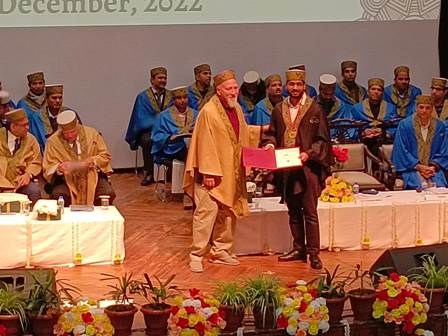 As many as sixty four students of The Indian Institute of Technology (IIT) Mandi were awarded PhDs in the 10th Convocation of the institute on Monday. Seventy students were awarded M.Tech, 188 students were awarded B.Tech degrees, 95 MSc and 10 MA degrees also.

Prof. Stuart R. Hameroff from University of Arizona,(USA) graced the occasion as the Chief Guest. Dr. Akhilesh Gupta Secretary Science and Engineering Research Board (SERB) New Delhi, Dr. Kingshuk Banerjee Director Hitachi India Pvt. Ltd. Bengaluru and Mr. Woochan Chang Director KOICA India, were the Guests of Honour.
Congratulating the students on the occasion Prof. Hameroff delivered a lecture on consciousness. He said, "Consciousness is a fundamental property of the universe; an inward hierarchy in quantum brain biology is consistent with Indian Knowledge systems like five Koshas".
He said, "Quantum state reduction can occur at various levels of the brain hierarchy – Atman from Brahman and at deeper inward levels it may exist in space & time. While therapies aimed at microtubule resonance with painless, safe and pleasant brain ultrasound can treat mental and cognitive disorders," he added.
He advised students," To consider Quantum Computing and Quantum Biology which would be important dimensions in future."
An international expert in consciousness studies Prof. Hameroff was here to teach a course in the institute on science consciousness to establish collaborative research with IIT Mandi.
Chairman of Board of Governors of the institute Prof. Prem Vrat, who presided over the convocation speaking on the occasion said, " IIT Mandi has equipped the students with good attitude, knowledge and skill to be a good human beings and a successful professional but it is a time for guru dakshina from them, the best they can do is by living rest of the lives with the lessons learnt here and continue to remain a student throughout life with an open mind, besides working for sustainable development."
Congratulating the graduating batch, Prof. Laxmidhar Behera Director of the institute said, "You will become torch bearers of the institute and I am sure you will empower and lead the society in many ways; your success would become success of the institute."
He said, "In the coming years our focus will be to encourage faculty members and research scholars to publish impactful research works that are at par with the best Universities across the world; we must be solving real-life problems around impacting us."
President of India Gold Medal was awarded to Piyush Goyal, B Tech pass out from Computer Science and Directors Gold Medal was awarded to Bhumanyu Goyal.