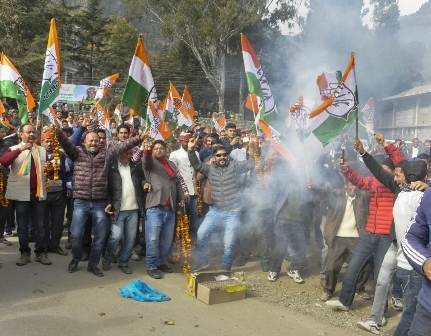 Continuing the tradition of change in state government after every five years for the past 37 years, the voters of Himachal has once again given clear majority to Congress party.
The Congress party has secured 40 seats and BJP could manage only 25 seats in the house of 68 in HP state Assembly. Three independent candidates have won the election.
The BJP's effort to convince the voters to reelect the BJP government has failed despite party's high pitched campaign to repeat its government on the slogan of reversing the trend and reelecting 'double engine' government.
Though the election in state has not been good for BJP but Chief Minister who has won by a huge margin from Seraj Assembly constituency ( by 38183 votes) has been able to maintain his grip on voters in his home district (Mandi). The BJP has won nine out of ten Assembly constituencies in Mandi district.
The prominent among Congress , who have won are Sukhvinder Singh Sukhu ( Naduan) , Vikramaditya Singh( Shimla rural), Harish Janartha ( Shimla urban), Kuldeep Rathaur (Theog) , Mukesh Agnihotri (Haroli) , Chander Shekhar( Dharmapur), Ajay Solanki ( Nahan), Dhani Ram Shandil (Solan), Sudhir Sharma (Dharamshala) , Suresh Kumar (Bhoranj), Rajender Rana ( Sujanpur), Inder Dutt Lakhanpal ( Badsar) , Chander Kumar(Jawali),Ashish Butail ( Palampur) , Naeeraj Nayyar (Chamba), Kuldeep Pathania (Bhatiyat), Kewal Singh Pathania (Shahpur), Rajesh Dharamani ( Ghumarwin), Sunder Singh Thakur Kulu, Bhuveneshwar Gaur (Manali), Ravi Thakur (Lahaul –Spiti), Jagat Singh Negi ( Kinnaur), Yadvender Goma (Jaisinghpur) , Bhawani Thakur (Fatehpur) , Sanjay Awasthi ( Arki) , Vinod Sultanpuri( Kasuali) and Rohit Thakur ( Jubbal Kotkhai) .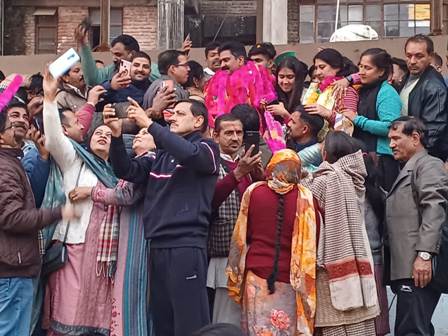 Many Congress stalwarts of Congress have lost the election i.e Kaul Singh Thakur (Darang), Asha Kumari (Dalhousie) , Prakash Chaudhary (Balh) , Ram Lal Thakur (Shri Naina Devi) , Khimi Ram (Banjar), Thakur Singh Bharmauri ( Bharmauri) and Sohan Lal Thakur ( Sunder Nagar ) .
For BJP only two Cabinet Ministers – Sukh Ram Chaudhary from Ponta Sahib and Bikram Jaryal from Jaswan Pragpur could win. HP Assembly speaker Vipin Pramar and Deputy Speaker Hans Raj have managed to retain Sulah and Churah Assembly seats respectively. All other minister -Dr Ram Lal Markanda (Lahaul Spiti), Sharween Chaudhary (Shahpur), Dr Rajiv Sehzal (Kasauli), Suresh Bhardwaj (Kasumpti), Rajender Garg (Ghumarvin), Virender Kanwar (Kutlehar), Govind Thakur ( Manali) . Rakesh Pathania ( Fatehpur) and Mahender Singh's Son Rajat Thakur (Dharampur) have lost. Former minister Rajiv Bindal has also lost in Nahan Assembly constituency.
The prominent BJP leaders who have won are Rakesh Jamwal (Sunder Nagar), DS Thakur (Dalhousie), Inder Singh Gandhi (Balh), Sat Pal Singh Satti ( Una), Randhir Sharma ( Shri Naina DevI) , Trilok Jamwal (Bilaspur), Pawan Kajal ( Kangra) and Balbir Verma (Chopal).
Three independents Ashish ( Hamirpur), KL Thakur (Nalagarh) and Hoshiyar Singh (Dehra) have also won. CPM MLA Rakesh Singh also lost from Theog seat .