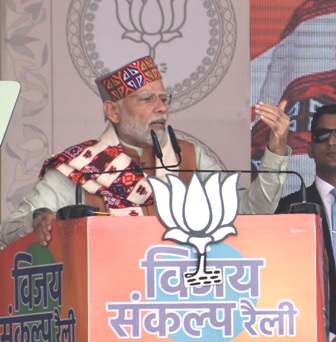 Prime Minister Narendra Modi made a scathing attack on the opposition Congress during an election rally at Sujanpur on Wednesday.
He questioned, "Those who cannot handle opposition properly, how would they handle the government; he said the guarantees being given by Congress in Himachal Pradesh to voters are just election gimmicks since Congress has always betrayed people and is not trustworthy."
He said, "Double engine government in the state is running because BJP is in governments both in the state and at the Center and people here would only get benefit of Central government run projects if they elect BJP government again in the state."
The PM said, "The Congress leaders always run towards Himachal after five years as there is tradition of change of government but this time voters are going to change this tradition and voters would give a surprise to Congress by electing the BJP government again."
He said, "The Congress leaders in fact  don't have right to ask for votes in Himachal as they have raised finger at the valour of the Indian Army by seeking proof of surgical strike and speaking against the country, Hamirpur district is land of brave soldiers and every family is connected with Armed forces; country is proud of sacrifices made by soldiers from the district and the state, " he added.
He said, " Congress governments kept the issue of OROP hanging for forty years and it was our government which fulfilled this demand of Armed personnel, besides resolving all their other issues ."
Appealing voters to vote for BJP candidates in Himachal Assembly election he said, "The double engine government would continue to function in Himachal as Congress party has been completely wiped out in recently held by-elections and people would elect here BJP too breaking the old tradition."
Union Minister Anurag Thakur and former CM PK Dhumal were also present on the occasion.