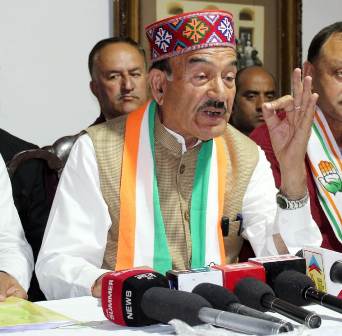 Himachal Pradesh Congress Committee (HPCC) has promised to restore the old pension scheme for state government employees in the state, give one lakh government jobs to unemployed youths, give support price to all varieties of apples and give Rs 1500 per month to every woman in the state in its election manifesto.
The election manifesto was released at Shimla in the presence of Chhattisgarh CM Bhupessh Bhagel, Congress in-charge Rajiv Shukla, PCC president Pratibha Singh and other Congress leaders.
The Congress leaders have promised to establish a food processing plant at Solan, complete Bhanupali- Bilaspur rail line , raise minimum wage to Rs 500 , give 300 units free electricity to every household , employment to people displaced in power projects, set up mobile health clinics in difficult and remote areas, check illicit mining and make the state drug free , preserve and promote culture and traditions of Himachal , check inflation and launch pension scheme for retired journalists etc.
The Congress leadership has tried to address problems of every section of society by announcing several schemes for them.
Talking to media persons at Mandi, senior Congress leader Kaul Singh Thakur said, "Congress party is committed to work for welfare of every section of the society and has tried to address their problems contained in the Congress election manifesto."