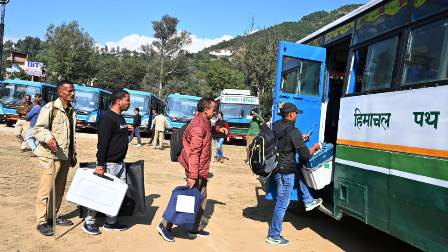 Campaigning for the 68 members Himachal Pradesh Assembly election came to an end on Thursday evening. The polling would be held on November 12 while counting of votes would be undertaken on December 8.
BJP, Congress, CPM, BSP and AAP mobilized all their organizational strength and resources on the last day of the campaign by holding public meetings, road shows and meetings in support of their candidates.
UP Chief Minister Yogi Aditya Nath, Home Minister Amit Shah, BJP president JP Nadda, Union Ministers Anurag Thakur, Nirmala Sitharaman, Smirti Irani and other leaders held public meetings in favour of BJP candidates. On the other hand Congress leaders Priyanka Gandhi, Chhattisgarh CM Bhupesh Baghel and Rajasthan Deputy CM Sachin Pilot held public meetings. The Congress and BJP candidates also held road shows at different places. CPM, BSP and AAP candidates also organized road shows and public meetings on the last days.
Most of the polling parties were dispatched for their respective polling booths. The security forces have beefed up security arrangements for the polling in the state and have sealed the borders.