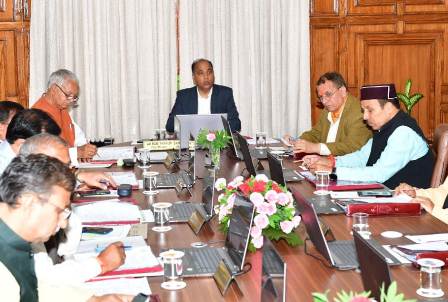 Himachal Pradesh Cabinet has given approval to draft a MOU between the State and the Central governments to make All India Institute of Medical Sconces (AIIMS) as a nodal agency for medical education, research, for providing specialized health facilities, health care, developing training centers, conferences and international seminars.
The meeting presided over by Chief Minister Jai Ram Thakur also decided to restart degree college at Narag in Sirmour district and open Pangana college in Mandi district, open a police post at Bahli Chowki (Mandi district), Block Office at Bathri in Chamba district, tehsil at Naggar in Kullu district and ITI at Deha in Shimla district, besides creating several patwar circles.
It also decided to upgrade Government High Schools Kholi, Thakurdwara, Bandal in Kangra district to secondary schools, middle schools Tandi, Pashi, Tinder and Mashna in Kullu district, Devidarh in Mandi district to high schools, upgraded primary schools Okhali,Tikki and Bharechai, Shillbagi,Daran, Bassi in Mandi district, Godigad in Kullu district to middle schools .
The Cabinet also decided to start science, mathematics and commerce classes in a number of schools and open veterinary dispensers at Dummi in Shimla district.
It approved revision of pay structure for existing regular teaching faculty and librarians working in degree level technical institutions in the state from January 1, 2016.
It decided to open eight 50 bedded Critical Care Blocks at RPGMC Tanda, SLBSGMC Mandi, RKGMC Hamirpur, AIMS, Chamiyana (Shimla), Regional Hospital UNA Regional Hospital Solan, JLNGMC Chamba, and Civil Hospital Manali and three District Integrate Public Health Labs at Zonal Hospital Dharamshala, DDU Zonal Hospital Shimla and Zonal Hospital Mandi under PM Ayushman Bharat Infrastructure Mission.