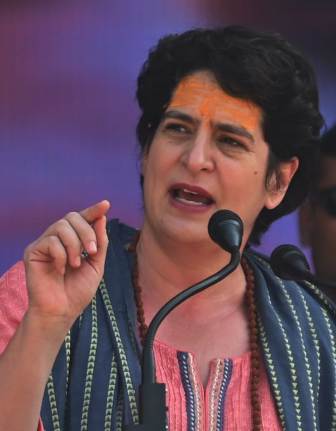 Congress General Secretary Priyanka Gandhi appealed to people of Himachal Pradesh to carry on good traditions of the state like festival of Shivratri, Kull Dusehra and changing state government after every five years.
Addressing an election meeting at Paddal Ground on Monday she said, "The tradition to change government after five years is good as it gives chance to leaders to learn from their mistakes and voters can elect new government on the basis of their experiences."
She said , " In the present situation it is very important as people can judge from their experiences what the BJP government headed by Jai Ram Thakur has done for them in Mandi district outside his Assembly constituency Seraj "?
The Congress leader said, "People should ask from the present government what they have done to provide employment while 63000 vacancies in government departments are lying vacant; the vacancies have not been filled up because they lacked intention."
Targeting the state government, she accused, "Scam took place in recruitment of police constables, prices of essential items have broken the backbone of people, increase in GST has increased prices, pension of government employees have been snatched, and certain Corporate Houses close to the government are being benefited."
She said, "People should decide from their experience whether this government should be continued for another five years or changed"?  
Reiterating the Congress party's ten guarantees being given to people of the state the Congress leader said, "In the first Cabinet meeting after coming to power in Himachal Pradesh our government would restore the old pension scheme, fill up one lakh government posts lying vacant, and give Rs 1500 per month to every women."
She said , " Our government would create five lakh jobs in five years , create a Rs 680 crore startup fund to give loans without interest, start mobile clinics and four English medium schools in every Assembly constituency ."
Talking about contribution of Congress governments in the state the Congress leader said , " IIT Mandi, drinking water supply scheme for Mandi town , creation of Central Zone for Mandi , Medical College Nerchowk are all contribution of Congress government and former CM's Dr YS Pramar and Virbhdara Singh carried a lot of development in the state ."
She also recalled the love and affection of former Prime Minister Indira Gandhi to Himachal Pradesh.
Chhattisgarh Chief Minister Bhupesh Baghel in his address said , " Congress government of Chhattisgarh has fulfilled every promise made to people of the state, our government has restored old pension scheme and giving Rs 2000 crore directly to farmers and workers: and if Chhattisgarh government can do its why Congress in Himachal cannot do it "?
Addressing the meeting HPCC president Pratibha Singh said, "Former Chief Minister Virbhadra Singh carried a lot of development in Mandi as he considered it as his karmabhoomi and we are indebted to love and affection given to him by people."
She said, "The police constable recruitment was a big scam and the Congress government after coming to power would probe the matter and bring culprits to book."
Kaul Singh Thakur, Mukseh Agnihotri, Sukhvinder Singh Sukhu and Sohan Lal Thakur also addressed the public meeting, while several other leaders were present on the occasion.