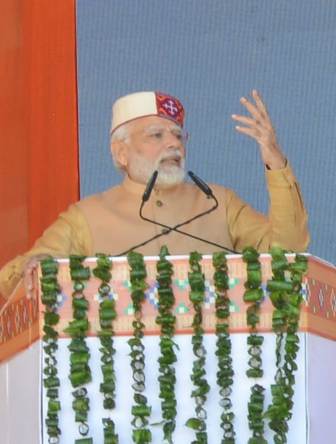 Prime Minister Narendra Modi flagged off Vande Bharat Express Train from Amb- Andaura to New Delhi and laid foundation stone of Bulk Drug Park at Una on Thursday. He also inaugurated Indian Institute of Information Technology (IIIT) on the occasion.
Addressing a public meeting the PM said, "After getting so many important projects of public importance in Himachal Pradesh people are witnessing Deepawali before the festival of Deepawali ."
He said, "The nature has given abundant beauty to the state but connectivity with a train like Vande Bharat Express would change life of people and attract more people to religious places like Chintpurni, Jwalamukhi, Kangra and Anandpur Sahib etc."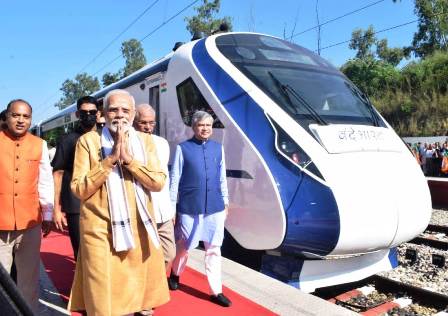 Accusing previous governments for not creating basic needs in remote, hilly and tribal areas which needed these facilities most, the Prime Minister said," These governments failed to create basic facilities without bothering about agony of people but our government has fulfilled these need and facilities like broad band connectivity, electricity, clean drinking water and Vande Bharat Train would change life of people here."
He said, "One Vande Bharat Train out of total five such trains and one Bulk Drug Park out of total four such parks in the county show my love for Himachal Pradesh, institutes like IIIT would help in acquiring skills to get employed to youths of the state."
The Prime Minister said, "There is a difference between needs and aspiration of people and our government is committed to fulfill these by filling up potholes of lack of faith with faith of development and create needs and facilities consummate with needs of 21st Century and Double Engine Government have been able to bring projects like AIIMS, IIIT etc."
He said, "The Bulk Drug Park would invite investments of thousands of crore, create thousands of jobs , help making the state as hub of bulk drugs and lead to growth of pharmaceutical industry."   
Mr Modi also talked about welfare schemes like Ayushman Bharat and others and urged people to change the tradition of changing the state government after every five years and vote of continuity in the state. 
Later addressing a public meeting at Chamba after laying foundation stones of Chanju III ( 48 MW) and Deothal Chanju ( 30 MW) Hydro Power Projects and launching Phase III of Pradhan Mantri Gram Sadak Yojna ( PMGSY) at Chamba , the Prime Minister Modi talked about importance of all these projects .
Mr. Modi said, "There is saying in hills pahad ka pani aur pahad ki jwani yahan ke kamm nahin aati par ab himachal men yeh hoga."
He said, "Every moment for us is very important and we have to take a leap forward and our government is making every effort to develop remote, tribal and backward areas by providing health facilities, clean drinking water, road connectivity; by making Chamba as aspirational district, perceptible change has been effected in the life of people."
Elaborating development schemes , The PM said , " The Double Engine government has done lot of good work through welfare measures and development schemes, we have expanded road network by building 12000 kms roads in the state and Parwat Mala Yojna would provide connectivity through rope ways in hilly regions ."
He said, "Our government has ensured no one go to sleep hungry and providing free ration to 80 crore people."
Mr. Modi also highlighted the culture, handicraft and food of Chamba and urged people to preserve and take these at the international level which would help in creating employment opportunities."
Chief Minister Jai Ram Thakur in his address thanked the Prime Minister for bestowing his love and affection by giving so many important projects during the past eight years to the state .
Union Information and Broadcasting Minister Anurag Thakur also thanked the PM for launching Vande Bharat Train and other projects.
Himachal Pradesh Governor Rajender Arlekar was present among other dignities on the occasion.