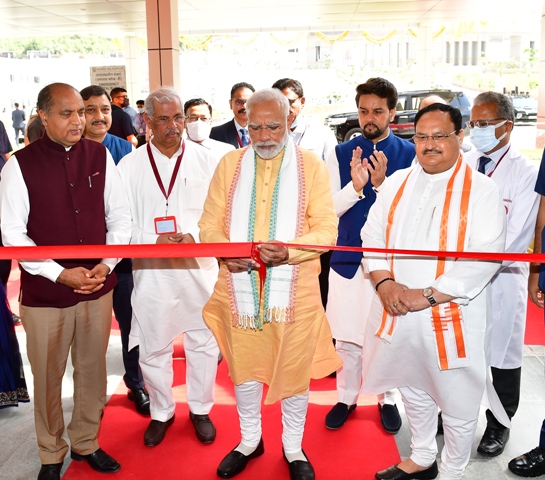 Prime Minister Narendra Modi inaugurated All India Institute of Medical Sciences (AIIMS Bilaspur) built with the cost of Rs 1471 crore and Hydro Engineering College on Wednesday in Bilaspur district as he inaugurated and laid foundation stones of projects of nearly Rs 3653 crore during his visit.
Addressing a public meeting at Luhnu Ground of Bilaspur the PM said, "CM Jai Ram Thakur, BJP president JP Nadda and Anurag Thakur gave credit to me for these projects saying Modi Ji's efforts led to completion of the projects, but if i tell you the truth all these projects including Atal Tunnel, Bulk Drug Park, Medical Device Park etc. could materialize with the efforts of all of you as people voted BJP to power at the Center and in the state."  
He said, "It is a difference of vision; the Congress government laid foundation stones but forgot to complete the projects for years but the double engine government of BJP planned these and completed them with determination."
Criticizing the previous Congress government the PM said , "Development for them meant developing cities and selected areas but our government is working to check the lopsided development and taken steps to create health, education and basic facilities; roads in tough hilly terrain were constructed under PMGSY by spending nearly Rs 50000 crore in Himachal."
Talking about enhancement of health facilities, the PM said, "The AIIMS would help in providing specialized health facilities in the state and free treatment would be provided to people covered under Ayushman Bharat Yojna and HIM CARE, 1200 doctors are passing out every year from the state medical colleges and Medical Device Park and Bulk Drug Pharma Park would help in making life saving drugs, besides tapping opportunities  in medical tourism as the AIIMS would be green institute "
The PM also praised social security schemes, hundred percent vaccinations against COVID etc of the state government and also talked about One Rank One Pension and other schemes.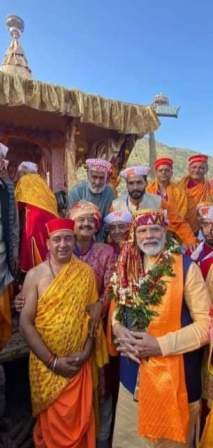 Later, the PM also witnessed the historic beginning of week long Kullu Dussehra and sought blessings from Lord Raghunath, the principal deity of the festival, and greeted people on Vijaydashmi.
Addressing the gathering Chief Minister Jai Ram Thakur thanked the PM for showering his affection and blessings on a small state like Himachal and praised him for sanctioning projects of Rs 10000 crores to the state during the five years.
BJP national president JP Nadda and Union Information and Broadcasting Minister Anurag Thakur also addressed the meeting and elaborated various schemes launched in the state by the Modi government. Himachal Pradesh Governor Rajender Arlekar among other dignitaries was present on the occasion.