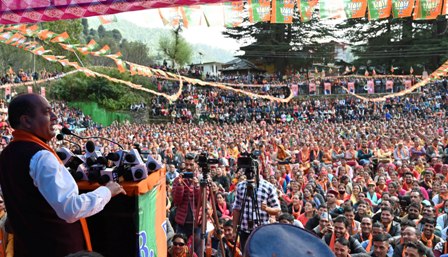 Nine candidates including Chief Minister Jai Ram Thakur filed their nomination papers on the third day of filing nominations for Himachal Assembly election on Wednesday in the state.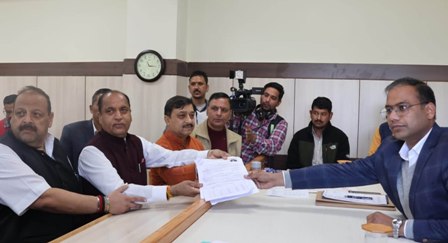 Chief Minister Jai Ram Thakur filed his nomination papers at Thunag in the afternoon for Seraj Assembly constituency.
Before filing his nomination papers the CM addressed a public meeting at Kuthah and appealed to voters of Seraj constituency to bless him for the sixth time in the Assembly election as they have done in the past five Assembly elections.
He said, " I have left no stone unturned to fulfill development needs of the area and people can themselves observe the changes brought in the area ; despite the area being remote which lacked basic facilities for several decades during the previous governments, has now witnessed unprecedented development during the last five years ."
Thakur said, "It was due to your consistent support that I was elected Chief Minister of Himachal Pradesh and I am confident you will shower your blessings this time too and elect me with a huge margin."
He said, "It may not be possible for me to visit the constituency frequently to seek votes due to my responsibility in the state but I appeal to every one of you to work day and night to maintain the pride of Seraj."
The other candidates who filed nomination papers on Wednesday are: Former Cabinet Minister Prakash Chaudhary (Congress) and sitting BJP MLA Inder Singh Gandhi from Balh constituency, Congress candidate Rajesh Dharmani (Ghumarvin), Visheshar Lal (Rampur), Naresh Darji (Hamirpur) and Khem Singh (Mandi sadar) as Independent candidates.