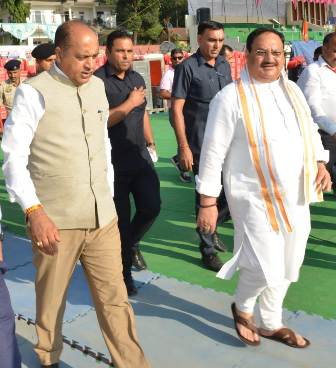 National president of BJP JP Nadda and Chief Minister Jai Ram Thakur visited All India institute of Medical Sciences (AIIMS) Bilaspur and Luhnu ground on Tuesday to take stock of arrangements before Prime Minister Nareneder Modi's visit to Bilaspur on Wednesday.
Director of the AIIMS Dr Vir Singh Negi also gave a presentation on the occasion.
Later, the CM also visited Dhalpur ground, Kuillu, where the PM would witness the historic rathyatra of weeklong Kullu Dushehra festival.
The CM said, "The visit of the PM to Kullu Dushehra shows affection and deep connection with the people and culture of the state."
He said, "Before participating in Kullu Dushehra the PM would inaugurate Rs 1471 crore AIIMS and Hydro Engineering College Bilaspur, besides two other projects."
State BJP president Suresh Kashyap and officers of the district administration remained present on the occasion.