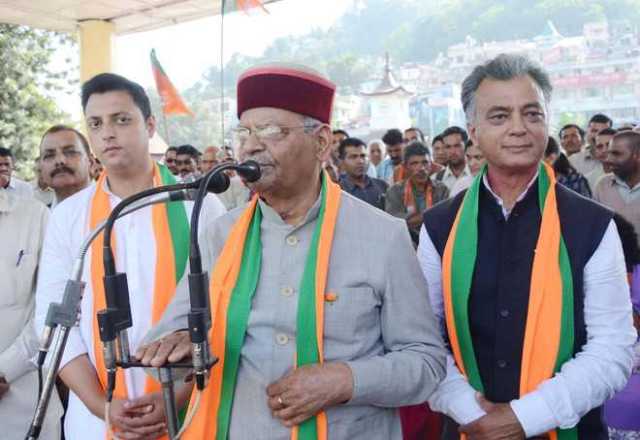 Though switching political parties in Indian politics has become common, the way 'Sukh Ram Family' has been defecting frequently, has put them in the spotlight .
Sukh Ram's son Anil Sharma had announced to remain in BJP a few days back, after vacillation of several months and his son Ashrey Sharma also left Congress and joined BJP.
His father (Late) Pandit Sukh Ram failing to get a BJP ticket for grandson Ashrey Sharma had defected to Congress party and later secured a Congress ticket for Ashrey to contest 2019 parliament election from Mandi.
Finding himself in an awkward position Anil Sharma had to resign later from the Jai Ram Thakur Cabinet, as he had refused to campaign for BJP candidate and was accused of clandestinely working for his son.
Sukh Ram held important Cabinet portfolios in the State and the Central governments and enjoyed power for several decades. Not only this, he groomed his son Anil Sharma, made him Cabinet Minister in the state government and secured parliament ticket for Ashrey Sharma from the Mandi parliament seat in 2019.
Sukh Ram was expelled from Congress in 1996 when crores of rupees were recovered in CBI raids and he was booked in a corruption case. He had formed Himachal Vikas Congress (HVC) and became instrumental in forming BJP-HVC government in the state as his party held four MLAs required for getting majority in the hung Assembly after 1998 Assembly elections..
Before the next Assembly elections in 2003 he parted ways with the BJP as HVC could only win one seat and merged HVC into Congress during the 2008 Assembly election.
His son Anil Sharma was made a minister in the Virbhadra Singh government as Sukh Ram became ineligible to contest elections as a result of his conviction in a corruption case related to a telecommunication scam during his term as Union Telecommunication Minister.
He along with his son Anil Sharma, a Cabinet Minister , defected to BJP just before the Assembly election in 2017, giving a swear jolt to Congress as Virbhadra Singh termed Sukh Ram as "Aya Ram Gaya Ram". The family managed a Cabinet berth for Anil Sharma after the return of the BJP government in the state.
For almost a year he was reportedly bargaining with Congress and BJP leaders but has decided to continue in BJP and contest the coming Assembly election on BJP ticket from Mandi sadar constituency.
How, voters of Mandi Assembly constituency would take the family's political  U-turn  would be tested in the ensuing Assembly election?