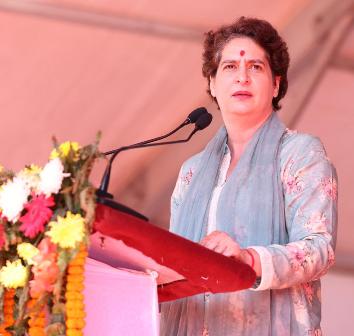 Congress General Secretary Priyanka Gandhi Vadra has promised to fulfill ten guarantees being given by the Congress party to people of Himachal Pradesh.
Addressing a public rally at Thodo Ground on Friday she said, "The Congress party is committed to fulfill ten guarantees being given in Himachal to people and three of them i.e. filling up one lakh vacancies to give jobs to unemployed youths, restoring old pension system to state government employees, giving fifteen hundred rupees per month to every female in the state, would be implemented in the first meeting of the Cabinet after coming to power in the state." She also promised to start a fruit processing industry in Solan district.
Taking dig at BJP led Central and the State governments she said, "The state government employees are sitting on dharna for months demanding restoration of old pension system but the state government has refused to implement the demand on the pretext of paucity of funds while the government is waiving off loans of crores of rupees of their industrialist friends."
Attacking BJP government the Congress leader accused, "Every section is annoyed with the present regime; sixty three thousands post are lying vacant but state government has no policy to give jobs, orchardists and farmers are facing crises but government is not helping them, small traders are being troubled by GST and state government is allegedly protecting officials and politicians involved in various scams like PPE kit scam."
Recalling former Prime Ministers Mrs. Indira Gandhi's emotional bonding with Himachal Pradesh , the Congress General Secretary said , " Mrs Gandhi always loved Himachal and was keen to settle in the state after her retirement from politics but her life was cut short by terrorists; even before her death the Late PM had asked my father Rajiv Gandhi to immerse her ashes in the Himalayas and this is one reason I have constructed a house at Chharabra near Shimla."
She also recalled the contribution of former Congress leaders and Chief Ministers i.e. Dr YS Pramar, Virbhadra Singh and other Congress leaders in development of the state and said, "Mrs. Gandhi gave statehood to Himachal despite opposition and even Pandit Nehru had deep love for Himachal."
The Congress General Secretary also appealed to people to vote and elect Congress government in the ensuing Assembly election.
Addressing the rally Chhattisgarh CM Bhupesh Baghel said, "Our government has restored the old pension system in our state and Congress after coming to power would restore the same here."
Rajya Sabha MP Rajiv Shukla , president of Himachal Pradesh Congress Committee Pratibha Singh and leader of opposition Mukesh Agnihorti also addressed the rally. Solan MLA Dhani Ram Shandil and several other Congress leaders were present on the occasion.
.