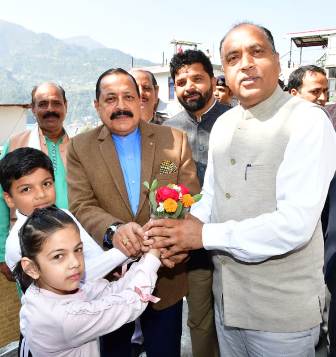 A review meeting was held at Chamba on Saturday for the proposed tour of Prime Minister Narendra Modi to the district on October 13.
Chief Minister Jai Ram Thakur, while presiding over the meeting to take stock of preparedness for the PM's tour directed the authorities to make foolproof arrangements for the proposed programme.
The PM during his visit would inaugurate the 180 MW Bajoli Hydro Electric Project and lay the foundation stone of 48 MW Chanju III and 30.5 MW Deothal Chanju Hydro Electric Projects. He would also address a public meeting at Chamba Chowgan.
The CM asked the authorities to ensure no inconvenience is caused to common people during the public meeting and make arrangements for smooth flow of traffic, adequate parking and drinking water facilities.
The Chief Minister also inaugurated and laid the foundation stone of several development projects during his tour and addressed public meetings at Chamba and Bharmour and talked about development taking place in the state during the last 75 years .
Union Minister of State for Science & Technology Dr Jitendra Singh, who attended the inauguration function of Science Museum at GSSS for Boys at Chamba and also addressed the public meeting and elaborated achievements made during the last 75 years .
He said, "The science museum would help in providing scientific knowledge and creating scientific temper among students."