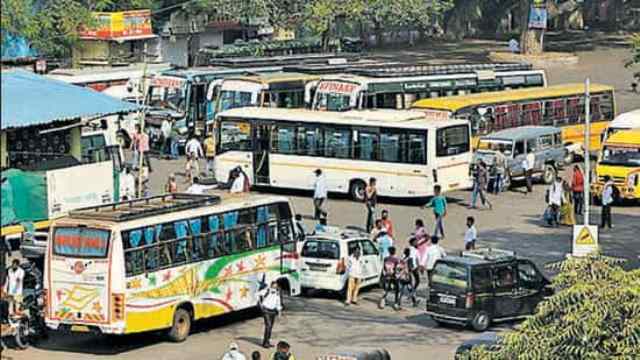 As the Himachal Pradesh government has failed to regulate private buses in the state, passengers traveling in these buses rue highhandedness of the private bus operators.
Though, the Transport department has set norms and issued directions from time to time but these are being violated with impunity, tell passengers .
A daily commuter Ankita who travels between Mandi and Sunder Nagar says, "Majority bus operators with a few exceptions do not follow rules or norms- none of them gives tickets, charge fare at per their wish and conductors deployed in the buses act more like musclemen; on being questioned they have their own explanations as they do not issue tickets," she adds.
The transport department has fixed a per kilometer rate of Rs 1.12 for plain areas and Rs 1.75 for hilly areas and after 25 percent increase in fare by the state government sometime back it is roughly Rs 1.40 paisa for plain and roughly Rs 2.18 for hilly areas now.
But in majority cases passengers are not made aware of these rates , while increasing the bus fares by 25 percent the state government had issued several directions to private bus operator's to strictly issue tickets to every passenger and give ticketing machines to every conductor but majority operators have not done so.
Since fatal accidents have claimed many precious lives and private buses are quite prone to accidents the state government has been issuing directions to check accidents.
After the last fatal accident in Banjar on June 20, 2019 in which 45 passengers had died the state government had issued strict directions to check accidents i.e. control over speeding, overcrowding, deploy trained staff, not to display music in buses etc.
Another passenger Khem Singh said, "The police had carried out checking of all buses as DGP had strictly asked the police to check any violation for a few days but things became as usual after some time."
Nagender Kumar a research scholar during a study found, "Unhealthy competition among private bus operators is one of the major cause of accident; their staff wait for passengers for quite long on bus stops and then suddenly rush to next stop, they overload the passengers to seams, loud music is being played without bothering about sick and aged passengers."
The transport department has limited staff and seldom checking makes little impact in regulating the bus operators.
State transport minister Bikram Singh Thakur, who was recently in Mandi when asked about such irregularities during an interaction with media said, "The state government has framed a transport policy to regulate the bus operators but flouting norms is quite normal throughout the country."