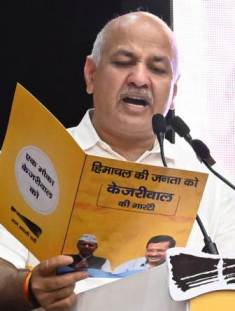 Delhi Deputy Chief Minister Mansih Sisodia accused the Central government for unleashing CBI inquiry against him to deter him from improving education system in Delhi.
Addressing a meeting of Aam Admi Party workers accompanied by Punjab Chief Minister Bhagwant Mann at Mandi on Friday he said, "The BJP government may soon hound him through ED but they would not be able to get any evidence as his conscious is clear."
He said, "The CBI got a jhunjhana (rattler) in their investigation and ED officials would also get the same and he would continue to work for improving education system."
Making announcement about ten promises of Arvind Kejriwal for people of Himachal Pradesh for the coming Assembly election , he said , " These include free and modern education to every child , guarantee to unemployed for giving them jobs or unemployment allowance of Rs 3000 per month, fill up nearly six lakh vacancies , end corruption and nepotism in giving employment , create conducive tax policy for traders and end inspector raj, end corruption at every level, grant of Rs ten lakh to every panchayat for development , free pilgrimages for people , announce MSP for fruit and vegetables and provide subsidized pesticides and fertilizers etc , free medical treatment through mohalla clinics and 300 units free electricity to every household."
Punjab Chief Minister Bhagwant Mann lashed at both BJP and Congress governments for doing little for people during the last 75 years.
He also appealed people of the state to vote our BJP and Congress in the next Assembly election in the state and elect pro –people Aam Admi Party government.
He said, "While voting for bringing the AAP government in the state people would be voting for themselves as they would vote for better education of their children, better health facilities of every citizen and vote out corruption and arrogance of BJP leaders."
Mann said, "The voters of Himachal should try something else than Congress and BJP in the state and elect the AAP government to make the state and India number one in every field."