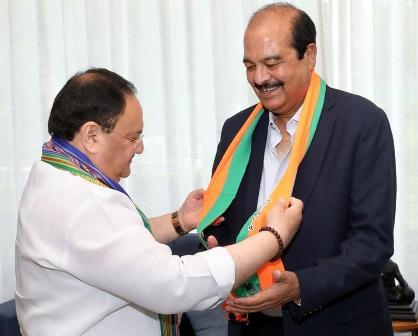 In a major jolt to Congress in Himachal Pradesh, the working president of Himachal Pradesh Congress Committee (HPCC) and former Cabinet Minister in Virbhadra Singh government, Harsh Mahajan joined BJP in New Delhi on Wednesday.
A three time MLA from Chamba constituency was considered a right-hand man of former Chief Minister Virbhadra Singh and was appointed Chairman of HP State Cooperative Bank during the previous Congress government. He was appointed working president with three others, a few months back by All India Congress Committee president Sonia Gandhi.
His joining BJP a few weeks before scheduled Assembly election in Himachal Pradesh in November is quite a setback for opposition Congress in the state as he is second working president of HPCC to join BJP: another working president Pawan Kajal had also joined BJP quitting Congress some time back.
This development took place immediately after the names of candidates were reportedly finalized by the screening committee for Assembly election presided  over by  AICC president Sonia Gandhi in New Delhi on Tuesday, which had reportedly finalized names of 39 candidates to contest the Assembly election, including all 20 sitting Congress MLAs in HP Assembly.
Possibility of more desertion of a few important Congress leaders cannot be ruled out before the election as many aspirants are exploring alternatives to switching over to BJP or AAP; the name of a senior leader from Kangra is already doing rounds in political circles.
The screening committee has also cleared the name of Neeraj Naiyar from Chamba constituency from where Mahajan was reportedly keen to contest this time.  
His leaving Congress is also being linked with departure of Gulam Nabi Azad from Congress as Azad remained political mentor of Harsh Mahajan since the days of latter's appointment as HP Youth Congress president in 1980's.
Harsh Mahajan has been out of electoral politics after he backed out to contest the 2007 Assembly election abruptly despite being considered almost a sure winner. He had won Chamba seat thrice consecutively in 1993, 1998 and 2003 for Congress.
There are reports BJP may field him from Dalhousie Assembly constituency against sitting MLA and senior Congress leader Asha Kumari , his old rival in the Congress. Dalhousie constituency (previously known as Banikhet) has remained the pocket borough of his late father and senior Congress leader Desraj Mahajan for a long time , who remained Speaker of HP Assembly and Cabinet Minister in Dr Pramar and Ram Lal Thakur led Congress governments, till his death in 1982.