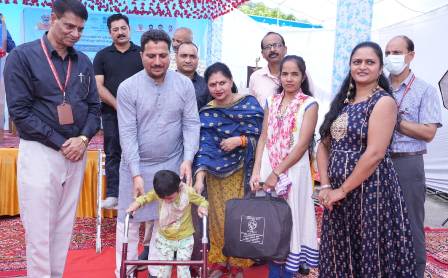 Tele-physiotherapy facility was launched in CRC center Sunder Nagar on Saturday, which was inaugurated by local MLA Rakesh Jamwal.
The MLA congratulated the special people of the institute and its staff on the occasion of the birthday of PM Narender Modi. He also interacted with the students of the institute and also distributed hearing aids, educational kits, wheelchairs and clutches etc for special children and other equipment. He also appreciated the efforts of starting tele-physiotherapy service in the institute.
Speaking on the occasion in-charge of CRC Dr Sha( trughan Singh said the institute is being run by the Ministry of Social Justice and Empowerment of the Central government under Regional Skill Development Rehabilitation and Empowerment of Persons with Disabilities.
He said, "The tele- physiotherapy facility has been started for the first time to celebrate 75 years of Indian Independence and would benefit a large number of people."
The staff of the institute and other guests was also present on the occasion.