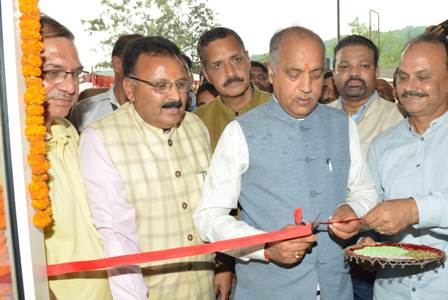 Chief Minister Jai Ram Thakur inaugurated a new Milkfed Plant Chakkar built with the cost of Rs 16.32 crore in Balh area (Mandi) increasing its capacity to over 50,000 litres .
Addressing a public meeting on this occasion the CM said, "HP Milkfed collected about 395 lakh liters of milk from 47,295 farmers of the state during 2021-22 and Rs 110.56 crore was paid to them; the purchase of milk during the current regime has by 78 percent and total turnover of MilkFed has increased to Rs 172 crore."
He said , " An increase of Rs 9 was made in milk price to Rs 31.90 liters and the federation is giving best milk price to milk producers in the country ; the daily milk processing capacity of Chakkar plant would increase to 130000 daily and another such other plants is coming up at Dutt Nagar."
The Chief Minister said that Prime Minister Narendra Modi is coming to address a youth rally at Mandi on Saturday and he had already sanctioned a Bulk drug Park for the state, given a special assistance of Rs 800 crore, besides sanctioning several other development projects of over Rs 10000 crore."
The Chief Minister announced the opening of ITI in the upper area of Balh and two veterinary hospitals at Balt and Sadhayani provided they fulfill all the norms.
MLA Balh Inder Singh Gandhi thanked the Chief Minister for always being considerate towards the developmental demands of the people of the area.
Earlier Chairman MILKFED Nihal Chand Sharma welcomed the Chief Minister and other dignitaries present on the occasion and thanked him for helping in upgrading Chakkar Milk Plant.
The CM also inaugurated Community Health Centre, Gagal and Primary Health Centre Rajgarh on the occasion.