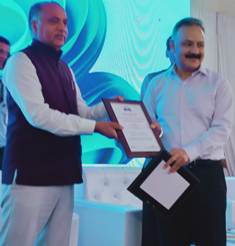 Bilaspur district administration has bagged second prize of District Good Governance Index (DGGI) for two times in a row.
The prize was given in a ceremony at Vipasha Sadan by Chief Minister Jai Ram Thakur on Monday to DC Bilaspur Pankaj Rai.
The prize is given for achievement indicators in different fields set by the state government on the recommendations of a committee headed by ACS Prabodh Saxsena.
Speaking on the occasion the CM said, "The state government has always emphasized on achievement of sustainable development goals and continuously working to improve the services being provided to the public and hoped the DGGI index would help in improving public services as district administrations are supposed to take quick measures."
Additional Chief Secretary Finance Prabodh Saxena said," The programmes being organized today showed progressive steps being taken by the state government and districts are supposed to act and improve its functioning on the basis of the index."
The prizes were also given to other winners of other districts on the occasion.