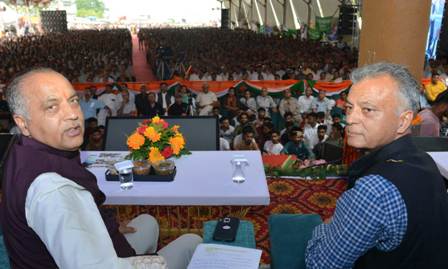 As Chief Minister Jai Ram Thakur attended several programmes in Mandi sadar Assembly constituency at Kotli on Monday, local MLA Anil Sharma tried to cozy up with the CM in his effort to get assurance about his "future" in the BJP and the state government.
Sharma , who was forced to quit from Jai Ram Cabinet when his father Pandit Sukh Ram and his son Ashrey Sharma had joined Congress and Ashrey Sharma contested the Mandi parliament seat on Congress ticket, has reportedly been "sailing in two boats keeping his future options open to contest next Assembly election."
Sharing a stage with Jai Ram Thakur, Sharma said, "Former Union Communication Minister late Pandit Sukh Ram had made immense development in the state and I as a BJP MLA always worked for the development of sadar constituency and hoped the CM would watch his interests in the BJP."
The CM remained non- committal about the demand raised by Sharma and said, "Anil Sharma is a BJP MLA and we would collectively work for the development of Mandi district and genuine demands of sadar constituency would be taken care of."
The Chief Minister inaugurated and laid foundation stones of 11 developmental projects worth Rs. 17 crore in Mandi sadar Assembly constituency which included Rs. 1.74 crore administrative block at GSS Kotli , double lane bridge on Ratti Khad costing Rs 8.04 crore , inaugurated PHC Randhara ,Kotli and Majhwar and laid down foundation stones of several other works .
Addressing a public meeting at Kotli the CM said, " The State is celebrating 75 years of its existence and it is an appropriate time to ponder over the fact what we have achieved and what still needs to be achieved "?
He also narrated about progress made in different fields during this period and highlighted various welfare schemes launched by the Central and the state governments for welfare of people.
The CM also criticized the previous Congress government for not carrying enough development in the state and allegedly making false promises to people before the election.