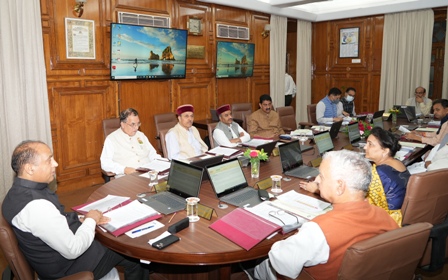 Himachal Pradesh Cabinet has expressed grief over the death of 32 people during the recent heavy rains and sent heartfelt condolences to the bereaved families.
The meeting presided over by Chief Minister Jai Ram Thakur also gave approval for revision of rates / entitlement/ limit of the house building advance to state government employees by 25 percent of the basic pay with maximum limit of Rs 15 lakh or the repaying capacity of the borrower for construction of house or purchase of a flat.
The Cabinet also gave its consent to provide immediate ex-gratia of minimum of Rs. 55000 and maximum Rs. 1.50 lakh on the death of regular employees to the family and minimum of Rs. 35000 and maximum of Rs. One lakh to the family of contract employees.
It gave its nod to review the policy for felling programme of Khair trees from private land in the state to benefit the farmers of the lower and mid areas of the district.
The Cabinet decided to fill up 10 posts of teaching and non teaching staff in Government College Thural, upgrade Government High School Thathal (Bilaspur district) to a senior secondary school and middle schools Anah and Khablech (Mandi district) to high schools
It decided to open Sanskrit College at Shingla (Rampur) , start science classes in GSS Lagauti and Pujali, science classes in GSS Chanoun , open Ayurvedic Health Center at Barara( Bhoranj) and Sogat ( Nurpur) , open new circle of Jal Shakti department at Bhawarna (Kangra district) , open office of Deputy Director Horticulture at Sidhpur (Mandi) , office of SMS at Dodra Kwar and open primary school at Sidhyar (Seraj) .
It gave its consent to make two government colleges at Kaza in Lahaul-Spiti and Jeori in Shimla districts, fill up 60 posts of non teaching employees in Dr YS Pramar University Solan , fill up one post of AP, one post of senior resident and two posts of nuclear medicine in Tanda Medical college.
It gave its approval to refund the premium of 2 years paid for HIMCARE cards of 392 beneficiary families under Mukhya Mantri Himcare Yojana and increase validity of Him Care Cards of 4484 families to three years.
The Cabinet expressed concern over quality and availability of government supply of cement and to probe the matter by concerned departments.