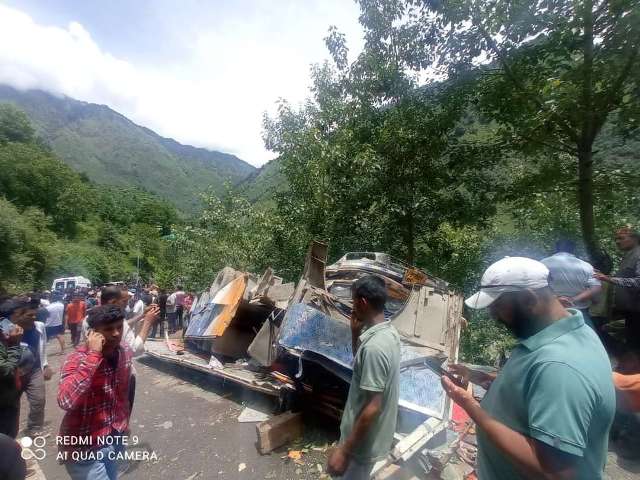 Thirteen passengers traveling in a private bus have died and two others injured after the bus no. (HP30A-0646) plying on Shensar – Sainj route fell into a deep gorge in Kullu district on Monday morning at Jangla village.
The Superintendent of Police Kullu Gurdev Chand said, "Fifteen passengers were travelling in the bus when it veered off the road and fell into a deep gorge about 8:30 am near Jangla village and thirteen passengers have died in the accident."
"Ten passengers died on the spot, two in Sainj hospital and one in the evening in RH Kullu hospital", he added.
As per preliminary information "The driver of the Anjali bus tried to take the vehicle through a loose portion of the road when it veered off the road and fell into a deep gorge."
A rescue operation was started with the help of local people and a team sent from Kullu.
The President of India Ram Nath Kovind, Prime Minister Narendra Modi, HP Governor Rajender Arlekar and Chief Minister Jai Ram Thakur have expressed grief over the loss of life and offered deep sympathies towards the families of the victims.
The CM has ordered a magisterial level inquiry into the accident and announced to give an ex-gratia relief of Rs 2 lakh each to families of the deceased and Rs 50000 each to the injured from PMNRF.
The deceased include Armina Tanu of village Tung, Prem Chand of village Vagi, Fateh Chand of village Tung, Anita Devi of village Tung, Sunil Kumar also from village Tung, Khimi Dassi of village Riyada, Roshi Devi of village Seri, Parvati Devi from Tung, Jhabla Devi of village Bajhara, Amit Kumar of village Jamra (Bihar), Aakash from village Rukmu (Nepal) and Bin Mayal from village Ranghse (Nepal) .