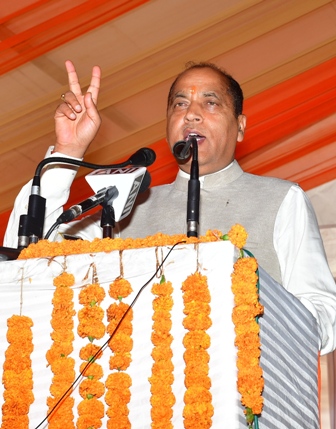 Chief Minister Jai Ram Thakur inaugurated the principal market yard, 100 bedded maternity & children hospital building and a model career center in Mandi on Monday.
Addressing the occasion he said, "The model career center would provide a platform for individual and group counseling for candidates looking for jobs as the centre would work upon the NCS portal which would provide registration facility, help in upgrading skills for personality development and improve their employability."
He said, "The center would help in understanding the process of self-registration and help in campus interviews."
He also laid foundation stone of Anaj Mandi at Kangni to be constructed by spending an amount of Rs. 29.02 crore and invited a girl to perform the ceremony as an initiative to promote beti hai anmol programme.
The CM said, " First phase of the Anaj Mandi would be constructed with the cost of Rs. 15 crore over 20 bigha land and would prove helpful to farmers and traders and 100 bedded maternity and child hospital would has been equipped with all modern facilities and would cater to health requirements of children and women ."
He said , " The state in general and Mandi in particular has witnessed overall development during the present regime as two universities i.e. a medical and a state university have been opened in the district, besides other projects like Shiva Dham and Dev Sadan, new college building, a parking facility and Airport for Mandi are under way" .
Targeting the Congress leaders he accused, "The Congress leaders did nothing for the district despite being in power for many years and now alleging nothing has been done under the present regime by ignoring the development projects."
MLAs from Mandi district among others were present during the CM's programmes.