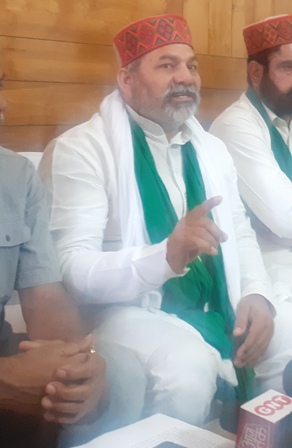 Samyukat Kissan Morcha leader Rakesh Tikait has demanded transport subsidies to farmers for transporting their produce to market.
Tikait, while addressing a press conference at Mandi on Thursday said, "When the Central government can give transport subsidy to sugar cane growers for transporting sugar, why can't the government give transport subsidy to farmers of Himachal Pradesh for transporting their fruits and vegetables ."
He said, "Farmers in Himachal Pradesh are facing several problems like the acquisition of land for power projects, widening of roads, expanding railway network etc, besides problems of farming and horticulture and Kissan Morcha is committed to support them in their every struggle ."
The Kissan leader said, "We have been fighting against big companies and food chains as they are exploiting the farmers and if farmers raise voice against these in Himachal we would take their struggle to New Delhi."
Earlier, Bhumi Adhigrahan Samiti led by its convener Joginder Walia submitted a memorandum to Rakesh Tikait raising several issues. The Kissan leader supported the issues raised by the Samiti and demanded implementation of Land Acquisition Act -2013 and giving adequate compensation for acquiring land for projects .