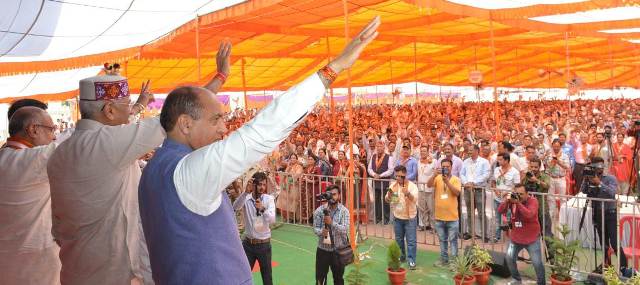 Chief Minister Jai Ram Thakur has exhorted BJP workers and functionaries' to work with dedication and greater commitment to fulfill the mission repeat of the BJP to bring the party back in power in the state after the next election.
Addressing Tridev Sammellan at Sunder Nagar on Tuesday he thanked Union Jal Shakti Minister Gajender Singh Shekhawat for being considerate to demands of Himachal Pradesh and said , " The present tenure of the state government remained dedicated towards welfare of people of every section of society with special emphasis on weaker section; several schemes like sahara yojna, grihni suvidha yojna and HIM CARE , besides providing social security pensions by spending nearly Rs 1300 crore, were launched ."
The CM said , Prime Minister Narender Modi has always been responsive to the demands of Himachal Pradesh and with his blessings the state government has made efforts to take the state to new heights and 8. 37 lakh new water taps were installed in the state.
He said, "The party workers have played a very important role during the COVID pandemic by doing social work and in providing food, shelter to the needy while the state Congress leaders allegedly raised a fake bill of Rs 12 crore to take credit for social work during the pandemic."
Union Jal Shakti Minister Gajendra Singh Shekhawat while patting the state government for good work here said, "BJP has traveled a long journey in India in becoming a largest party of the world from two members in the parliament and the state government is poised to return to power in the state on the basis of good work done by the state government."
He said , " PM Modi has worked hard to regain lost pride of the country and the NDA government have launched several schemes like Jan Dhan Yojna by which 10 crore accounts were opened and benefits transferred through DBT, besides launching other schemes," he added .