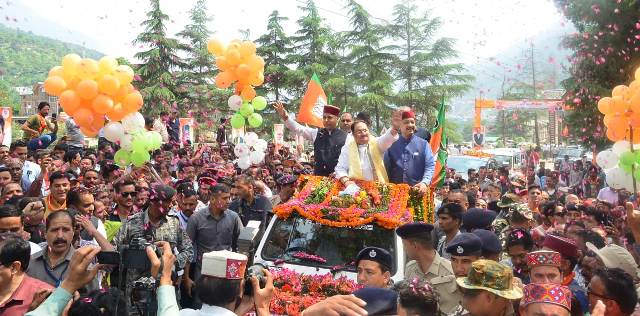 National BJP president JP Nadda held a road show in Kullu during his visit to attend a samman samaroh on Friday. Accompanied by Chief Minister Jai Ram Thakur and state president Suresh Kashyap, Nadda was taken to Rath ground in an open jeep and was welcomed by the supporters on the way.
Addressing the occasion, Nadda highlighted several achievements of the Central and the state government.
He said, "Development in every sphere has been made in Himachal during the last four and half years which was possible due to the double engine government in the state."
Nadda said, "The enthusiasm shown by people of the district indicates the BJP government would return to power after the next Assembly Election in the state as BJP does what it promises."
Highlighting achievements of the Central government he said, " The country was able to develop a vaccine against COVID -19 in nine months under the leadership of PM Narender Modi and 190 crore doses were given free to people and Himachal topped the country in administering first and second dose of the vaccine."
Talking about other achievements Nadda said, "The Central government provide free ration nearly 80 crore people, evacuated about 23000 students including 430 students of Himachal from Ukraine, India made 400 billion dollars export, 9.37 lakh farmers of the state are being provided Rs 6000 per annum under PM Kissan Nidhi Yojna and the Prime minister has ensured relief to weaker sections through different schemes."
He said, "People have voted for development in elections held recently in four states; Congress candidates lost security deposits in 389 Assembly seats in UP and AAP candidates lost deposits in 377 seats in UP and 68 seats in Uttarakhand."
Nadda also accused Congress governments for ignoring interests of the state and it was Late PM Atal Bihari Vajpayee who had given a special industrial package and PM Narendra Modi restored special category status of Himachal.
He also praised the state government for ably implementing different schemes of the Central government and launching schemes for the welfare of different sections of the society.
In his address on this occasion Chief Minister Jai Ram Thakur said, "We are fortunate to have a person from the state as BJP president and every party worker of Himachal has memory of working with him; it is also a matter of pride for us PM Narender Modi also considers the state as his second home."
The CM highlighted different achievements and welfare schemes launched in the state for welfare of weaker sections and thanked the PM and JP Nadda for bringing AIIMS at Bilaspur, besides other development schemes."
Earlier, state president Suresh Kashyap welcomed Nadda. Several ministers, MLAs and BJP leaders were present on this occasion.