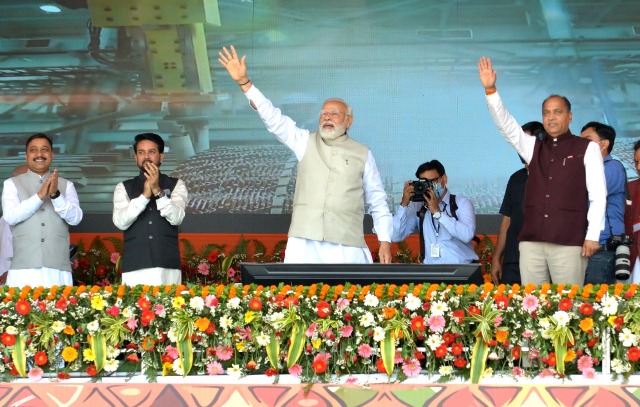 Prime Minister Narendra Modi addressed a rally on the Ridge ground Shimla to celebrate 8 years of BJP government in the Center, being celebrated as garib kalyan samellan on Tuesday.
Modi walked from the Mall Road to the venue of the function and was greeted by supporters on the way. He also issued about Rs 21000 digitally to nearly 10 crores farmers of the country as 11th installment of PM Kissan samman nidhi. The Prime Minister also interacted with several beneficiaries of different schemes form various parts of the country, virtually.  
Addressing the gathering the Prime Minister said, " I am happy to be in Devbhomi on this occasion, which has been my  karambhoomi and congratulate farmers for getting 11th installment of kissan samman nidhi as about Rs 21000 crore have been transferred to accounts of nearly 10 crore farmers digitally ."
The PM said , " One hundred thirty crore people of India have given me an opportunity to serve the country and i have always worked for their welfare and reiterate my resolve to live for the honour , security and prosperity of the country ; the welfare of poor people would always be paramount in my resolve", he added .
He said, "While people appreciate welfare measures taken by our government they should also remember what was happening in the country before 2014 when corruption and red tape-ism had institutionalized in the Congress regime and when interests of only few families were looked after by the government. "
"After 2014 our government has curtailed corruption through Direct Benefit Transfer (DBT) of about Rs 2.25 lakh crore to people's accounts and money is reaching the beneficiaries directly in their Jan Dhan bank accounts, more than 45 crore jandhan accounts have been opened, given help to crores of people through Ayushman Bharat Yojna, 200 crore free vaccine jabs have been given to fight COVID -19 and system of triple talaq has been changed," "he added.
The PM appreciated good work done by Chief Minister Jai Ram Thakur for launching several welfare schemes for people of the state, implementing jal jivan mission and achieving top position in COVID vaccination drive in the country.
Earlier, welcoming the PM, Chief Minister Jai Ram Thakur thanked the PM for sanctioning schemes to the tune of Rs 10000 crore to the state, giving special status to Himachal, starting AIIMS in Bilaspur along with three medical colleges, initiating completion of Atal Tunnel and helping the state government for inviting investment of Rs 50000 crore through ground breaking ceremony of investor's meet."
Union Minister Anurag Thakur and state BJP president Suresh Kashyap were present among other dignitaries in the function. Himachal Pradesh Governor Rajender Arlekar and CM welcomed the PM on the helipad .