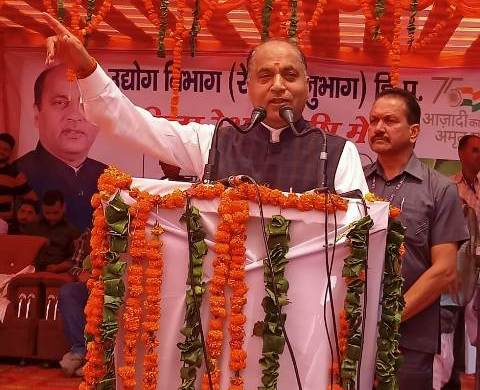 Chief Minister Jai Ram Thakur inaugurated Silk Seed Production Center and Sub Office Building of Construction Workers Welfare Board at Thunag in his Seraj Assembly Constituency on Wednesday.  
Addressing a public meeting at Thunag, Thakur said, "Nearly twelve thousand workers are involved in sericulture and opening of a silk seed production center would boost silk production, besides in meeting  required demand of silk  in the state."
He said, "The construction of Silk Entrepreneurship Development and Innovation Center Bali Chowki is near completion, which would be first Center of North India and many other silk centers in Seraj area are being developed."
Thakur said, " Two hundred farmers from the SC category would be provided Rs. 1.5 lakh each for setting up silk rearing houses ; silk producers have been given Rs 80 lakhs for silkworm rearing and Rs 28 lakhs for the equipments which would boost sill production and generate employment opportunities," he added
While presiding over the closing ceremony of Seraj Cultural Festival the CM said , " Seraj Youth Sports and Cultural Festival has provided a platform to 14 thousand rural youth in which 1390 teams participated and has encouraged traditional sports ."
 Highlighting various welfare schemes launched by his government he said, "Our government has tried to uplift weaker sections of the society by welfare measures and a large number of people have been benefited by the welfare schemes."  
Chairperson of Himachal Pradesh Red Cross Society and wife of the CM Dr Sadhna Thakur among other was present on this occasion.
–
.