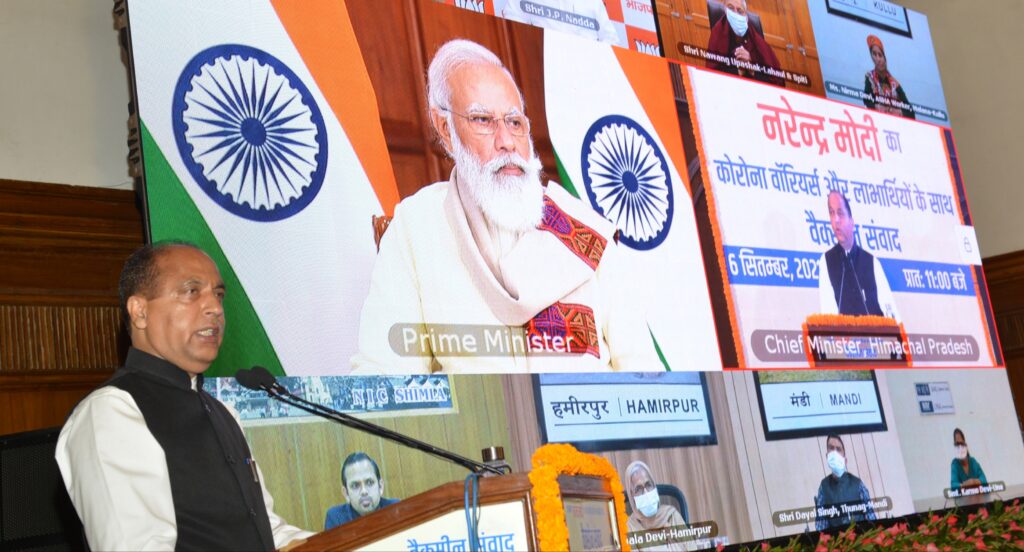 Prime Minister Narendra Modi has congratulated people of the state and the state government for emerging a top state in the country in administering COVID vaccine to all eligible people.
Interacting with the frontline workers and vaccinated people virtually from New Delhi on Monday with CM Jai Ram Thakur online from Shimla the PM hoped the state would also become the first state in administering the second dose.
Appreciating the efforts of the Himachal government the PM said, "The state was able to achieve this target due to effective implementation of the vaccination drive and public awareness as the state has not only vaccinated the entire eligible population but has also administered the second dose to nearly its one third population."
He said, "The state has connected science with culture and increased the self-confidence of the country and displayed strong determination and resolve of every person, in which women volunteers, arrangements made by the state government, fast vaccination without waste of doses played important role."
The PM said, "The state has proved how use of faith, education and science can bring change and suggested the state government to use drones in land survey, reaching far flung areas to deliver medicines and other essential items, encourage research for developing warning systems to forewarn landslides and patronize organic farming."
He said, "Meaningful results can be obtained by connecting villages and asked the government to implement Jal Jivan Mission, explore potential of forest wealth, especially herbs and rope in SHG for this and asked people to turn agriculture organic in next 25 years."
Appreciating various welfare schemes of the state government the PM also interacted with Dr Rahul of Civil Hospital Dodra Kwar, Dayal Singh of Thunag, Nirma Devi ASHA worker from Malana , Nirmala Devi from District Hamirpur, Karmo Devi from Una and Nawang Upasak from Lahaul-Spiti.
Speaking on the occasion Chief Minister Jai Ram Thakur thanked the PM for interacting with the people of the state, lauded adequate production of the vaccine under his leadership which made the state achieve this feat, besides providing strength to the vaccination drive.
The CM said, "Till September 3, 55, 28,648 people have been inoculated with the first dose of the vaccine and 1792715 people have been administered the second dose and would cover the population by November."
The national president of BJP JP Nadda, Union Minister Anurag Singh Thakur along with other dignitaries remained present during the interactions, besides thousands watching the programme on LED screens throughout the state.