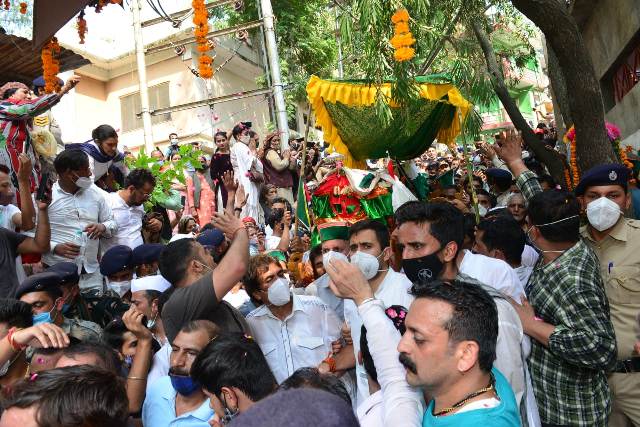 A large number of supporters and well wishers thronged Padam Palace of Rampur Bushehar on Saturday afternoon to join the funeral procession of former Chief Minister and towering Congress leader Virbhadra Singh (popularly called Raja Sahib by his supporters) to bid final adieu to their leader.
His mortal remains were consigned to flames on the banks of river Satluj with state honours and his MLA son Vikarmaditya Singh lit the pyre as per family traditions amidst chanting of hymns in praise of departed leader with tears in eyes.  Earlier, thousands of people joined his funeral procession from the Padam Palace to the funeral ground on the banks of river Sutlej.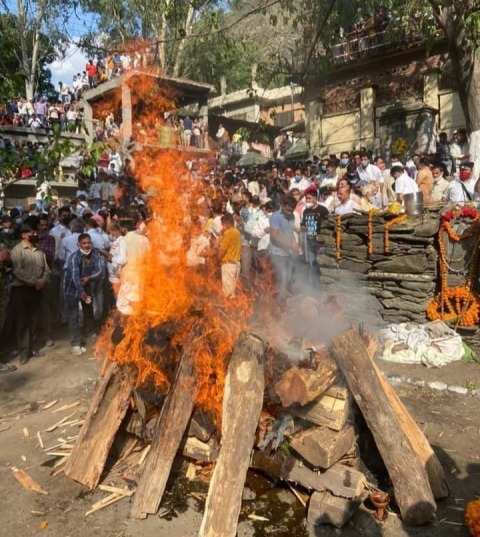 The body of Virbhadra Singh, who passed away on July 8 at IGMC, was kept on the Ridge ground of Shimla on Friday for paying homage to the public where Chief Minister Jai Ram Thakur and BJP president JP Nadda among a large crowd offered him floral tributes.
Later, former Congress president Rahul Gandhi also joined Congress workers to pay tributes to veteran Congress leader Virbhadra Singh at state Congress office Rajiv Bhavan. His body was taken by road to his ancestral place Padam Palace of erstwhile state of Rampur Bushehar and kept for the last glimpse.
Thousands of supporters had made a beeline to the palace to pay tributes to 'Raja' since morning where his son Vikrmaditya was also conferred successor of Virbhadra Singh and erstwhile ruling clan of Bushehar estate as per family ceremony.
Chief Minister Jai Ram Thakur and several of his Cabinet colleagues, party MLAs across party lines – BJP, Congress and CPM leaders paid their last tributes to the departed leader.
Chief Minister of Chhatisgarh Bhupesh Baghel, Congress working committee members Pawan Kumar Bansal, Anand Sharma and Rajiv Shukla , deputed by AICC president Sonia Gandhi , reached Rampur Bushehar to attend the last rites and pay tributes to six time former CM of HP and one of the most popular Congress leader , Virbhadra Singh.