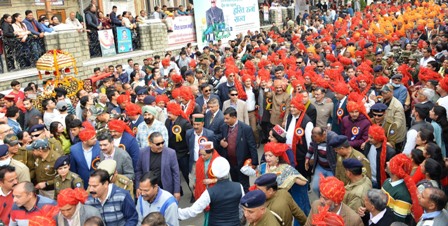 A weeklong famous Shivratri festival of Mandi began here on Sunday with a jaleb (religious procession) from Madho Rai temple to Paddal ground , with hundreds of deities carried on shoulders of a large number of dancing devotees, contingents of police and home guards, Chief Minister Sukhvinder Singh Sukhu and a large number of dignitaries wearing colourful turbans, participated in the jaleb.
Chief Minister Sukhvinder Singh Sukhu, chief guest of the inaugural function, paid obeisance in the temple of the principal deity of the festival, Madho Rai and later inaugurated an exhibition put up at the Paddal ground.
Speaking on the occasion the CM congratulated people on the occasion and said, "The Maha Shivratri festival is a festival of deities and the state government is spending over Rs one crore on the festival this year."
He said, "The festival of Shivratri has great tradition which depicts our cultural heritage and amity; the fairs and festivals are repositories of our diverse culture and it is our endeavors to preserve these traditions," he added.
He said, "During the seven-day festival the presence of hundreds of deities in Mandi town adds a unique religious fervor."
The CM said, "Despite economy of the state being in disarray there would be no let-up in development works and the state government has started making special efforts to bring the economy on track and the state government would focus on education, and health in the coming state budget ."
He said, "The state government is seriously working to fulfill election promises made by Congress during election; OPS was announced in the first Cabinet Meeting and we are working to fulfill other promises too."
The CM said, "The state government has launched Mukhya Mantri Sukh Ashray Yojna to provide facilities to orphans, age persons and destitute; Rs three crore has already been deposited in this scheme so far."
HPCC president and Mandi MP Pratibha Singh, senior Congress leader Kaul Singh Thakur, several MLAs among other dignitaries' were present on this occasion.
Earlier, presiding over a programme in sanskriti sadan organized by Sarav Devta Samiti the CM announced to give Rs one crore to the dev Samaj.