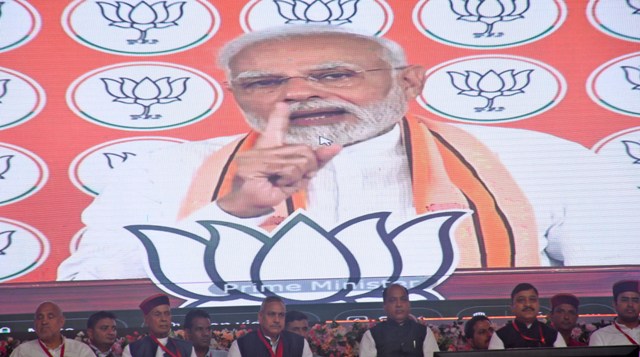 Incessant rain and inclement weather turned out to a great spoiler for the organizers of Yuva Vijay Sankalp Rally of BJYM as Prime Minister Narendra Modi could not make it to the  rally at Paddal ground Mandi on Saturday.
As thousands of youths from different parts of Himachal Pradesh waited eagerly for the PM, heavy downpour since morning prevented helicopter carrying him to land here.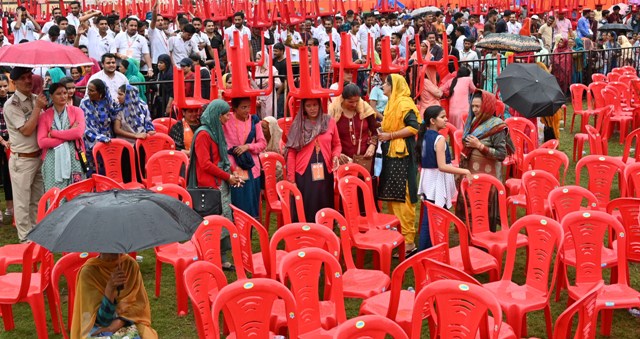 Announcement made from the stage about virtual address of the PM from New Delhi left the audience quite disappointed , more so, today's rally was being considered launching of BJP's election campaign in the state for Himachal Assembly election scheduled in November this year.
Addressing the rally virtually, Prime Minister said, "The coalition governments in the past failed to deliver due to political instability but stable government after 2014 in the country brought stability in policies as people here and at international level now have faith on Indian government; voters of UP and Uttrakhand have voted for stable governments in recent elections and this would also be reflected in coming Assembly election of Himachal Pradesh as only BJP can carry development."
The PM said, "India has been immensely benefited from entrepreneurship, skill development and startups from Himachal have done commendable work in tourism; the state is going to become a global pharmaceutical hub with coming up of Bulk Drug Park, Medical Device Park and institutions like IIT Mandi, AIMS Bilaspur, IIIT and IMM, and three universities would benefit the youths, "he added.
He said, "Himachal has contributed a lot in development and in safeguarding the frontiers of the country and I am happy youths of the state after taking lead in COVID vaccination have immensely contributed in harnessing tourism potential of the state; GI Tag to products like Kullu shawls, Chamba rumal, woolen socks of Lahaul would popularize culture and products of the state worldwide, and their good work in farming would benefit the state and the country."
He said, " The Central government has sanctioned Rs 14000 crore for building and maintaining national highways and schemes like Mudra Yojna, vibrant village for boarder villages , use of drones in agriculture and linking agriculture with tourism through SCO's would boost the economy and create employment avenues in the state."
The PM said, "Bad weather has stopped me from coming to Himachal but it can't be a barrier between my love for people of Himachal and I would soon visit the state to seek their blessings."
Speaking on the occasion Chief Minister Jai Ram Thakur thanked the PM and the Central government for sanctioning Bulk Drug Park as this would bring an investment of Rs 50000 crore and direct employment to nearly 30000 youths in the state .
State BJP President Suresh Kashyap, BJYM national president Tejasvi Surya and state BJYM president Amit Thakur also spoke on the occasion . Former Chief Minister Prem Kumar Dhumal, Cabinet Ministers, MLAs and other dignitaries were present in the rally.
Anil Sharma, Mandi sadar MLA was also present in the rally and at the CM's press conference where the CM announced, "Anil Sharma would remain in BJP."