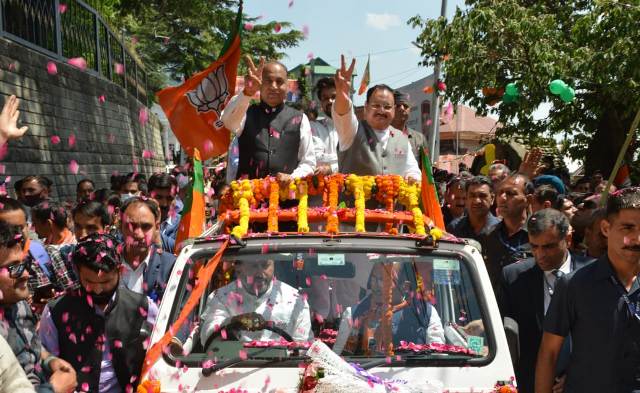 National BJP president JP Nadda brushed aside the Aam Aadmi Party leader's assertion of change of CM in Himachal Pradesh.
Addressing BJP workers in the abhinandan samaroh organized at Shimla on Saturday to welcome him after victory of the party in four states, Nadda said, "Himachal CM Jai Ram Thakur is a very gentle person and is working very hard for welfare of people of the state and Anurag Thakur and I are his advocates in New Delhi."
Appreciating the efforts of the CM, Nadda said, "The state government headed by Jai Ram Thakur in the state is doing good work as the state has become first in the country to achieve cent per COVID vaccination, 9.37, lakh farmers are getting Rs 6000 per annum under PM Kisan Samman Nidhi Yojna, 8.37 lakhs water connections were provided under JJM, besides lakhs others getting benefitted from different schemes."
Taking a dig at opposition Congress in the state, Nadda said, "The Congress party has always compromised with the interests of the state while BJP has always protected the state interests."
Thanking the people for this rousing welcome Nadda said, "This is not his honour but honour of every BJP worker who worked tirelessly to ensure victory of the party in recently concluded elections under the able leadership of PM Narender Modi."
He said , " PM Narender Modi's policies and welfare means to uplift weaker and other sections of society and regaining lost pride of the country, have been mainly responsible for the success of the BJP."
Nadda also highlighted different schemes and development projects launched in the state with the initiative of the Central government and Prime Minister Narender Modi.
Addressing this occasion Chief Minister Jai Ram Thakur said, "The State is fortunate the son of the soil is heading the largest political party of the world and Anurag Thakur is holding a cabinet berth in the Union government."
He also narrated different schemes launched in the state with the support of Modi government and special assistance of Rs 800 crores to the state government.
In his address Union Minister of Information and Broadcasting Anurag Thakur said," After winning elections in four states under leadership of JP Nadda the BJP would also win elections in Himachal and Gujarat."
State BJP president Suresh Kashyap also spoke on this occasion. Earlier, JP Nadda accompanied by the CM also did a road show from Vidhan Sabha Bhawan to Peterhoff in an open jeep.