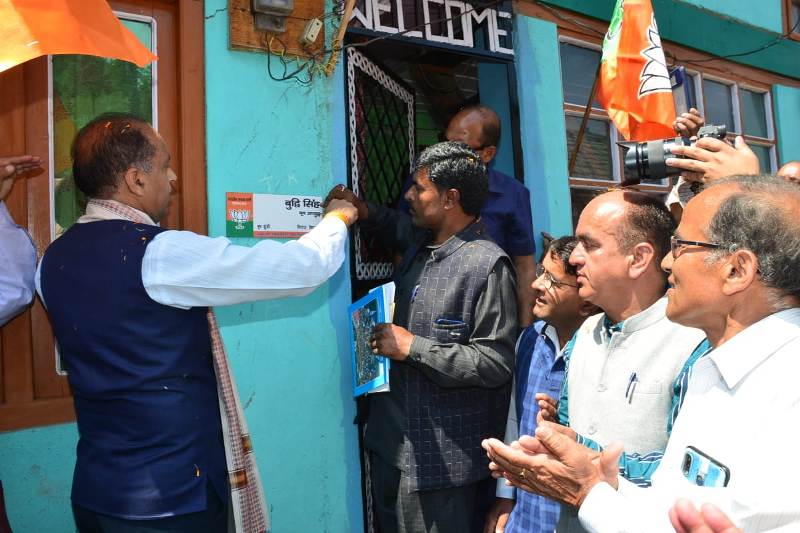 Chief Minister Jai Ram Thakur, while participating in the BJP Foundation Day Function in his Assembly Constituency, honoured party activists and exhorted them to work with more vigor.
Addressing a public meeting at Thunag on the occasion Thakur said , " It was on this auspicious day that BJP came into existence at Mumbai with former Prime Minister Atal Behari Vajpayee as its first party president ."
He said, "In 1975 when Prime Minister Indira Gandhi imposed Emergency in the country members of the Jan Sangh led strong protests against the Congress regime and after the withdrawal of the Emergency it also collaborated with the opposition parties to form the Janta Party."
"While the BJP was formed on April 6, 1980, its ideological origins can be dated back to 1951 when Shyama Prasad Mukherjee formed the Bharatiya Jana Sangh ", he added.
He said, "Today the BJP has become the largest political party in India in terms of representation in Parliament, party membership and overcame several obstacles to attain this position."
The CM said, "Under the leadership of Prime Minister Narender Modi the party came to power at the Center, won 2019 general elections with absolute majority, and has been sweeping Assembly Elections in several states since then".
He named several leaders like Shanta Kumar, PK Dhumal etc for their valuable contribution for the BJP in the state and said, " It is an honour for the state as JP Nadda from Himachal is atoning the party president at national level. "
Thakur said, "The party has planned several programmes on its foundation day for a week beginning on April 6 which would culminate on the Ambedkar Jayanti on April 14; chale booth ki aur – barhe jeet ki aur is an important programme."
Launching this programme he also hoisted a party flag on the house of booth president Budhi Singh of Jhud village.
Chief Minister Jai Ram Thakur also joined party workers to
listen to the address of Prime Minister Narendra Modi to commemorate the party's Foundational Day at Thunag.