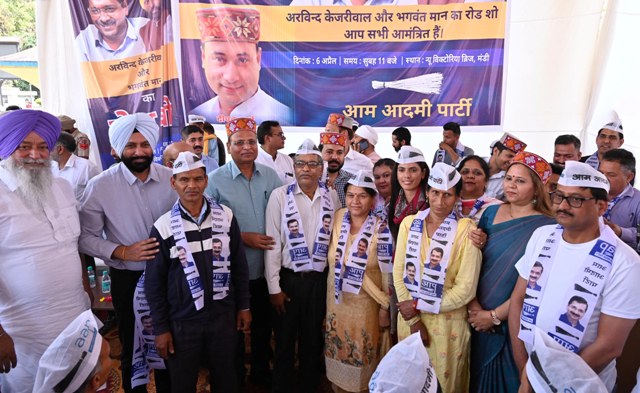 Aam Admi Party (AAP) geared up its campaign in Mandi on Tuesday to mobilize support for its road show and public meeting to be addressed by Delhi and Punjab Chief Ministers Arvind Kejariwal and Bhagwant Mann, respectively on Wednesday.
While the party activists continued its membership drive at Seri Manch, Delhi Health Minister Satyender Jain was busy in overseeing arrangements for the programme.
Talking to media persons at Mandi Jain said, "The road show would begin at 11am on Wednesday and both CM's would be participating in the road show starting from Victoria Bridge which would culminate at Seri Manch."
He said, "AAP has chosen Mandi for its first programme as it is center of the state, moreover it is also home district of HP Chief Minister."
Jain said, "We intend to change the trend of replacement of state government after five years between Congress and BJP by giving a political alternative to people of the state and AAP would work to check corruption, improve education and health facilities etc, besides raising per capita income of people."
Replying to a question how APP government would give free facilities to people Jain said , " We are giving free facilities from the pre paid taxes of people thus nothing is free in that sense; if politicians and their families are getting free health, electricity , water and other benefits then why public should also not get these facilities free too."
" our government is not taking loans to give these facilities free and presenting surplus budget " , he added.
Former Mandi district Congress president Deepak Sharma and few others also took membership of APP on Tuesday .