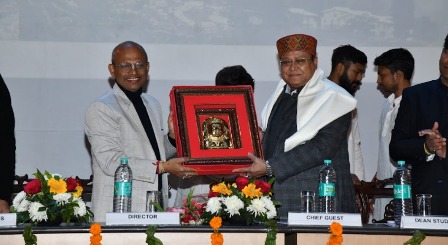 Member of the NITI Ayog Dr Vijay Kumar Saraswat and Chancellor of JNU, who was the Chief Guest on 13th Foundation Day function of Indian Institute of Technology (IIT) Mandi said, "IIT Mandi can play a vital role in promoting valuable medicinal plants found in this part of the Himalayan region, besides finding solution to specific problems like controlling avalanches and disaster management etc."
Replying to a question Dr Saraswat said, "Providing cyber security to check online cyber crimes like bank frauds is a big challenge before the digital technologists since criminals are using technological advancements to commit crime."
He said, "It is a vast field and vigilance at every level is of utmost importance; people tracking cyber crimes should make use of forensic techniques to track the criminals and strengthen cyber security," he added.
Prof. Laxmidhar Behara, Director of IIT Mandi on being asked how IIT Mandi proposes to upgrade skills of unemployed youths in ITIs and Polytechnic Institutions of the state to enhance their employ-ability, he said, "We would upgrade their skills in areas like Artificial Intelligence and Internet of Things (IoT) etc as per demand of the industry."
Earlier addressing the audience on the Foundation Day, Dr Saraswat lauding IIT Mandi for the new initiatives, said, "An interdisciplinary approach to learning is essential to scale up new frontiers of technology as science and social engineering can solve the world's complex problems"
Dr Saraswat said, "The world needs highly creative engineering students studying in institutions like IIT Mandi, who can solve many problems for sustainable solutions by using ethical means and adopting interdisciplinary approach & trans-disciplinary engineering."
Addressing on this occasion Prof. Behara said, "IIT Mandi is playing a leading role in the development of novel technologies, innovations & entrepreneurship for Himachal Pradesh and for the larger Himalayan region by focusing on key areas which can enable India to achieve Self Reliance (Atamnirbharta) for sustainable future."
Highlighting achievements of the institute, "The World class facilities like the Advanced Material Research Center (AMRC), Bio-X, and the C4DFED facility for the fabrication of semiconductor chips have been developed here and we aim to build IIT Mandi as an institute for preliminary research. "  
Prof. Behara said, "Each center of the institute can contribute in the growth of the Nation and with my background in Robotics and Artificial Intelligence we plan to develop a world class laboratory for Cognitive Robotics, Human Computer Interaction to find smart solution in health care, education, agriculture and defense."
He said, "Himachal is an ideal place to take up a project on mental health to cure patients by using our traditional knowledge and the institute would definitely work on this project."
Earlier, Chairman of the Board of Governors of the IIT Prof. Prem Vrat also greeted the students and staff on the Foundation Day.
The staff and students were present in large number on this occasion and several of them were also given awards.