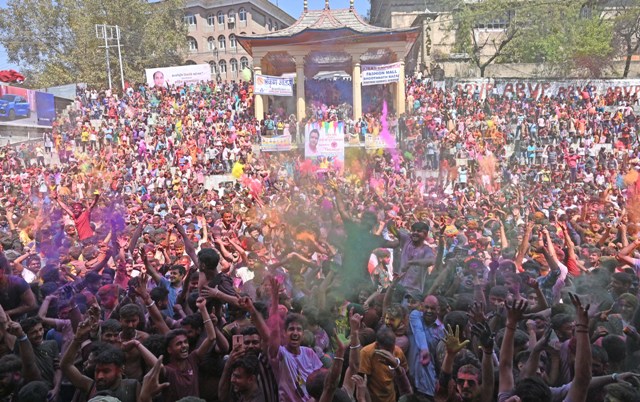 The Festival of Colours –Holi was celebrated with great enthusiasm and gaiety at the famous Seri Manch of Mandi on Thursday, one day ahead. There is a tradition of celebrating the Holi Festival one day in advance as the festival would be celebrated on Friday elsewhere.
The Festival began by paying obeisance at Madho Rai Temple as per old ritual . Later, hundreds of people, especially young girls and boys thronged to Seri Manch to play in colours . They danced on the beats of popular music till late in the afternoon.
There was great enthusiasm among youngsters as the festival is being celebrated after two years due to COVID -19.
Meanwhile, Governor of Himachal Pradesh Rajender Vishvanath Arlekar and Himachal Chief Minister Jai Ram Thakur have greeted people of the state on the occasion of Holi.