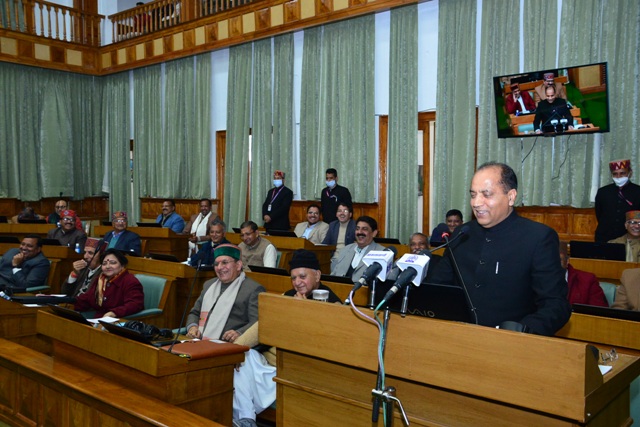 Chief Minister Jai Ram Thakur presented 2022-23 budgets for the state with the budget provision of Rs 51,365 crores with a deficit of Rs 3993 crores and GDP growth of 8.3 percent for 2021-22.
The CM, who also holds the portfolio of Finance, presented his fifth and last budget of the current tenure of HP State Assembly.
Presenting the Budget Thakur announced several sops for different section of the society in the election year to woo them with special emphasis on providing social security to weaker sections. An announcement to fill up 30000 posts has also been made in the budget.
The CM in his budget speech announced to increase social security pension and lowered the age to 60 years for getting old age pension. Now all women between 60 and 65 years and men between 60 to 69 years would be eligible to get pensio( CM n without any income criteria. The old age pension has also been raised. Total 7.5 lakh people would be covered under the pension schemes on which Rs 1300 crores would be spent.
To improve health facilities in the state Rs 1276 crores are proposed to be spent for 2022-23. The registration under HIM CARE would be done for 3 years, five hundred doctors would be recruited, CM mobile clinics would be started for remote areas, a model PHC would be set up in every Block and 100 Ayush Hospitals would be made wellness centers.
While announcing schemes for women, Thakur announced to give three LPG cylinders free in a year to beneficiaries of Grihni Suvidah and Ujjawala Yojna, daily grant of Rs 500 women working as Krishi sakhi,Pashu sakhi etc, besides other benefits for women. He announced to convert 12207 anganwadi centers to model agnawadis.
He also announced to include 100 schools in swaran jaynati gyanodaya swarshreshta schools, 68 senior secondary schools and 10 government colleges under the schemes. He also announced several scholarship schemes for the meritorious students. Research scholars would be given an honorarium of Rs 3000 pm and University at Mandi would start functioning from 2022.
The monthly emoluments of anganwadi workers has been raised to Rs 9000, honorarium of elected local bodies representatives, besides other have also been enhanced.
The Budget Allocation for Jal Shakti Department Rs 2772 crores, Agriculture Sector Rs 583 crores, Horticulture Rs 540 crores, Panchayati Raj Rs 1662 crores, Urban Development Rs 713 crorers, Health Rs 2752 crores, Education Rs 8412 crores and PWD Rs 4373 crores.
To promote drones and digitization a new scheme GARUD would be launched in the state.
The CM also made several other announcements in the budget.