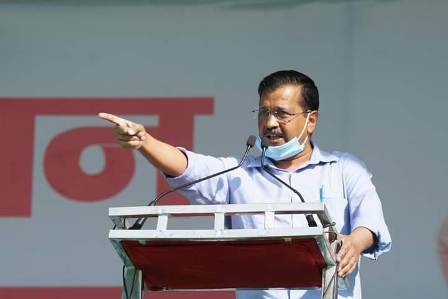 Buoyant with its landslide win in Punjab elections the Aam Admi Party ( AAP) has set its eyes on Himachal Pradesh by deciding to hold a road show at Mandi on April 6, in which Delhi Chief Minister Arvind Kejriwal and Punjab CM Bhagwant Mann would participate .
Sant Ram, who has recently joined the APP said, "Delhi CM Arvind Kejriwal and newly elected Punjab CM Bhagwant Mann would be holding a road show in Mandi on April 6, which is likely to be attended by 25000 people."
Many second rung leaders of ruling Congress in Himachal Pradesh are joining the AAP but no big leader from BJP or Congress has joined the party yet. By showing its strength the AAP leadership would try to influence several fence sitters in both the parties. Talks of former Congress minister and prominent leader of Kangra Major Vijay Singh Mankotia (retd) joining AAP are also doing rounds.
By holding its first major show, in which party's two CMs would be participating in the home district of Chief Minister Jai Ram Thakur, the APP leadership wants to prove its mettle in the state, as a grand show by the AAP would definitely attract public attention.
As the term of Himachal Pradesh Assembly would be ending in December 2022; the political activities in the state have already begun. The ruling BJP is upbeat by the party's performance in UP and other states and is working hard to repeat its government in the state through Mission Repeat- 2022.
The opposition Congress, which had won all three Assembly seats in by-elections along with Mandi parliament seat, is also working with added energy to return to power in Himachal Pradesh.
The Delhi model of governance, the populist promise to give freebies to people are already drawing public attention. And if Punjab government is able to implement several public welfare measures promised to people there then it can have definite impact in neighboring Himachal as several areas of the state are closely linked to Punjab.