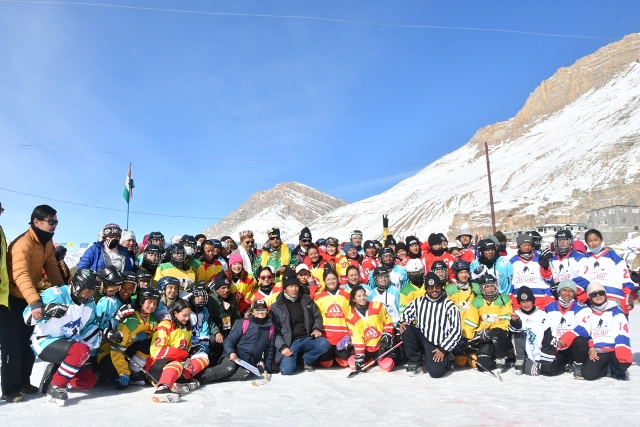 The 9th National Ice Hockey Championship began at Kaza on Sunday with the formal inauguration of the games by Chief Minister Jai Ram Thakur.
The National Ice Hockey competitions, being organised for the first time in the tribal district of Lahaul – Spiti have evinced keen interests from the ice hockey lovers as several teams are participating in the championship despite the matches being played in sub-zero temperature. The teams from Himachal Pradesh, Telangana, Ladakh, ITBP Ladakh, Chandigarh and Delhi are participating in the national championship.
The game of Ice Hockey has also become quite popular winter sports in Kaza region as people have found an avenue to play games when human activities are restricted due to harsh winters amidst heavy snow.
Addressing the gathering after inaugurating the National Championship Chief Minister Jai Ram Thakur said , " It is for the first time the National Level Ice Hockey Competition is being organised at Kaza which would play a significant role in popularising this game and boosting tourism potential in this region like Uttrakhand, Ladakh , Kashmir and other Himalayan states ."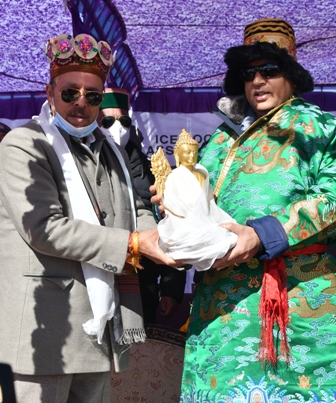 He said," The state government has recently given approval to the Swaran Jayanti Sports Policy to give boost to sports activities in the state under which several incentives and prizes would be given to sports persons."
"Under the policy three percent reservation would be given to sportspersons in government jobs, diet money would be doubled and prize money of Rs 3 crores would be given to sportsmen winning gold medal in Olympics games, cash prizes for all winners, besides monthly pensions, awards and other benefits," the CM said.
Thakur said, "The state government is opening High-Altitude Sports Centre at Kaza and ice skating rinks have been developed at Lidang, Sagnam, Losar, Tabo, and Hikkmi to promote the game."
Tribal Development and Information Technology Minister Dr. Ram Lal Markanda while welcoming the Chief Minister said, "The development in tribal areas has been our priority during the last four years."