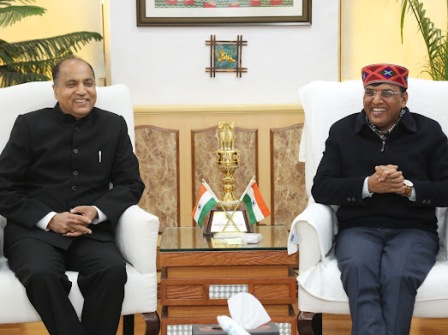 Chief Minister Jai Ram Thakur called upon Union Health and Family Welfare Minister Mansukh Mandaviya at New Delhi on Thursday and urged him to sanction fifty ambulances to reduce the response time as per prescribed limits in the hill areas., besides requesting to appoint 58 more ASHA workers under NUHM and 176 in NUHM component for the quality outreach in comprehensive primary health care for urban areas of the state.
Thakur also requested the minister to grant a bulk drug park for the state to expand industries. He was accompanied by Union Information and Broadcasting Minister Anurag Thakur and Chief Secretary Ram Subhag Singh.
During his tour to the capital today the CM also called upon Railway Minister Ashwani Vaishnav and urged the minister to hasten work on Bahnupali –Bilaspur Rail Line and extend it up to Leh, which is very important from strategic point of view.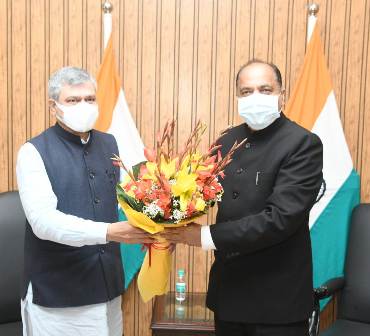 Thakur also requested the minister to start work on Baddi- Chandigarh Rail Line immediately as this would help in connecting Baddi- Amritsar – Kolkata Rail corridor and boosting industrial activity. He also urged the minister to accord priority in financing other pending rail projects of the state to develop rail infrastructure in this hilly region.