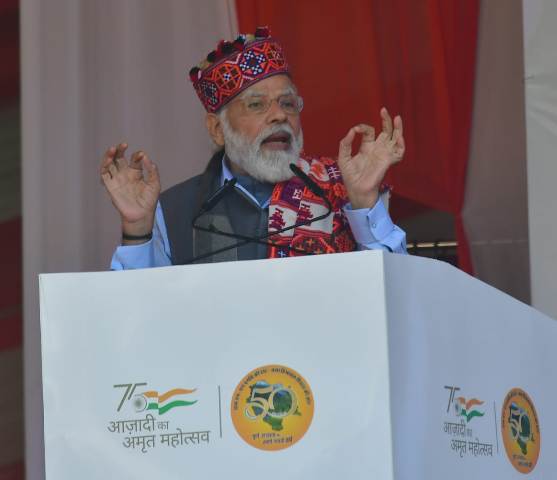 Prime Minister Narendra Modi said, "Today two models and ideologies are working in India; while our government works with a motto of Sabka Sath, Sabka Vikas aur Sabka Prayas, there is another model which works with the motive of Khud ka Swarth, Pariwar ka Swarth. In Himachal first model is working which has led to speedy progress in every field and the state has also topped in vaccination drive against Covid in the country."
Addressing a public meeting at Paddal ground before visiting exhibitions put by various departments, participating in ground breaking ceremony of Global Investors Meet and inaugurating and laying foundation stones of development projects of nearly Rs 11,581 crores here on Monday the PM spoke his opening address in local Mandyali dialect to establish a chord with the audience.
Speaking in Mandyali Modi said, "The moment I came here I got an opportunity to seek blessings of Baba Bhoothnath and other deities of Dev Bhoomi and I always relish local dishes like sepu badi, badana etc."
He said, "I have always considered Himachal as my second home and have deep emotions for the state and people have reciprocated their love through a large gathering here."
Congratulating the state for completing fifty years of statehood and four years of Jai Ram government, Modi said, "Jai Ram government has made hard efforts to carry development in the state despite COVID pandemic and investment has been attracted which would raise income of the state and provide employment opportunities."
He praised the state government for tapping hydro power potential of the state and starting Sawara Kudu project, Renuka Dam project, and other projects which would "ensure clean and green energy and also fulfil our commitment to save climate and produce sufficient power, as we had promised to tap 40 percent of non-fossilised energy by 2030."
Modi also emphasised on the need to keep Himachal plastic free and appealed to tourists to help in making the state plastic free and asked the state government to ensure recycling of plastic to save our environment.
The Prime Minister also lauded the state government for its various schemes like Him Care, promoting natural farming and topping in the vaccination drive in the country and said vaccination of adults between 15 and 18 years and booster doses for front-line health workers and those above 60 years having underlying conditions would be given from January 3.
Modi asked the Jai Ram government to work at the same pace and carry out more development in the state.
Earlier addressing the gathering Chief Minister Jai Ram Thakur talked about various development schemes of the Central government carried forward by the state government like Him Care, Grihini Suvidha Yojna, holding Global investors meet and building houses for the poor and praised the Modi government for starting AIIMS, four Medical colleges and IIM in the state.
He also promised, the state government would carry forward the development in the state and shall try to break the trend of change of government after every five years in the state by returning the BJP government to power in 2022.
Information and Broadcasting Minister Anurag Thakur also narrated several development projects undertaken by the Central and the state governments in the state, besides several remarkable works done by the Modi government.
Former CM Prem Kumar Dhumal, MPs Suresh Kashyap, Krishan Kapoor, Indu Goswami, several ministers and MLAs of Himachal were also present on this occasion.